I decided to buy a DSLR camera, given that I wanted to improve the quality of my blog photos as well as have the camera once Baby K comes along. It was really overwhelming and I sort of stared at it for the first few days because there are a LOT of buttons (ugh) and it doesn't run like a point and shoot camera. The one thing I like about that is that I have to turn the lens piece to zoom; I didn't like how my point and shoot did it all electronically. It took a lot of extra time to turn it on. Also I've been taking MUCH better photos even in automatic mode. It's really awesome to be able to take photos faster instead of waiting for the camera too. I've still got a lot to learn, but the camera was awesome to have while on vacation.
The hard adjustments have been remembering to turn the camera off… it won't do that on its own. However, I haven't had issues with it running out of battery life either. I also only have one lens and already I would like one with a bit more zoom power. I'm mostly only doing portrait photos so at this point it can hold off for a while, but eventually when G and K are in sports and such I'll want to zoom to get closer photos from further away. I also don't like needing to put the lens on every time I decide to take a picture; I don't like loosing a photo opportunity and with kids those come and go quickly. I've got to check to see if it's okay to store the camera in my case with the lens attached. I have been trying to be VERY careful with my camera so I don't want to take any chances on breaking it or the lens. I did buy a protection plan for the camera, however.
Here's the camera that I bought (left) and an alternate package that includes two lenses (right):
Here's some of the accessories that would be great to buy with the camera (I bought the case and memory chip right away because they were priorities, as well as a protection plan, I already had a tripod, and I'm hoping to get an extra battery soon):
Of course, extra lenses are always nice, but I decided to hold enough off until I know more about my camera before purchasing extra lenses. I really need to understand what I'm doing better before I decide. One thing about this camera that is less than stellar is that there's a video option; it's not great from what I can see. You're probably better off with a video camera. That being said, my iPhone5 takes really decent quality short videos and I don't anticipate I'll need/want to video anything long. I didn't try it with a tripod so it might be better for that and obviously I haven't played around with it much, but that's just my initial impression.
I've been looking into classes, but I haven't found a short, quick, cheap one to take and I don't think a 4-6 week course is really what I'm wanting right now. I've been checking out free videos on youtube instead. It's a GREAT option. It's a nice quick peak at what I'd like to do and I can watch, then experiment with my camera quick. I really like being able to try new things immediately. I haven't checked out much and I've been focused on aperture first.
Here's a couple tutorials I found useful:
Comparison pictures pre-DSLR vs. DSLR
Blog Photography
It's nice to actually capture the color of the walls accurately!
Personal Photography: Portrait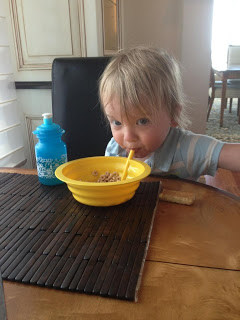 iPhone5 (top) vs. DSLR on auto setting (bottom two)
I've gotta work on taking great pictures outside of auto mode because these aren't as good as they could be, but there's still a huge difference in quality of the photo. I wish I had some decent comparison photos for the action photos, but alas… they came out pretty crappy on auto mode (although they are visible, my cell phone pics for those are just a big blur). The one difference you can't see on this page is that the DSLR photos are larger file size and can be blown up bigger if I want to get them printed out.