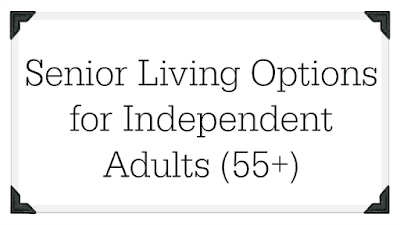 Detailed information and analysis about the various housing options for seniors (55+) with the approximate costs, benefits, and drawbacks. Most of my research was for Maryland, but I think you can get a pretty good idea of the cost in other areas based on this.
This post may contain affiliate links. Using these links helps support my blog. Thank you!
I know this is a bit off topic for my blog, but I recently did a lot of research on housing options for people 55+ and I am hoping that it will be useful to somebody. It may be stretching the term "do-it-yourself" but this is a situation where I did a really careful analysis of the various options because I wasn't going to rely on a stranger (on commission) to do it for me.
My mom lives in another state and told me she wanted to make the move to live in Maryland so she could be closer to the grand kids. She has a limited income so I needed to look into a variety of options to give her an idea what would be the best "bang for her buck."
Now before we get started, I'll say that this is for INDEPENDENT seniors. I didn't do any research about the options for seniors who need nursing care.
55+ Senior Apartments: For Seniors with Limited Income
If you're on a limited income, this is really an excellent option.
If you're making bank and plan to continue working, you won't qualify and you should move onto one of the other options. There ARE other rental options.
I know a lot of people are against being sent to a "facility" of any sort, but these are really just apartments for quiet people with some additional safety options and activities in place. My mother-in-law said her mother used to HATE the idea of going to one, but then once she moved into one out of necessity she absolutely loved it. She would tell her, "I should've done this years ago!"
I tend to think well of any senior living because I used to go visit my dad when he was building them (he's a contractor) and LOVED running up and down the halls. Plus I see it as a college dorm for older people. Living in a dorm was the bomb. A quiet dorm with my own bathroom would totally be my jam. I could read books and sew all day. Gosh. Yes.
The nice option with renting a senior apartment is that she could have kept her home in Texas and rented it out. The rent would have covered her apartment cost with some rental income remaining to put aside for taxes, repairs, and a management company. And she would have still had equity in her home in case she ever needed it (ie. if she needed a higher level of care and needed the money to pay for that or if she decided to buy a home in our area).
Benefits
Quiet communities.
Meet other people your age.
Coordinated activities.
Transportation available.
No maintenance.
Pull cords in the bathroom and bedroom in case of emergency. The sites I visited had a 24/7 staff member present.
Lots of senior-friendly services on site- ie. a gym appropriate for seniors.
Some doctors come to visit the apartments at scheduled times for things like vaccines, eye appointments, etc.
Drawbacks
There are rules about pets. My mom's dog was over the weight limits (usually a limit of 25 lbs).
Some states seem to have fewer options.
No backyard if you love to garden. Although some apartments had a gardening area for their seniors.
Most of the places required that you be making under $35k a year for income + social security. Before taxes. This is because they receive a government subsidy to compensate for the lower rents they collect from the individuals living there.
There are often waiting lists or lists so long that they stopped taking people for their waiting list.
For married couples, there are some good setups such as a 2 bedroom, 1 bathroom unit. But I couldn't find any units near us that had 2 bedrooms and 2 bathrooms. My mom lives with my aunt and they each wanted their own bathroom.
I did notice some areas seemed to have more senior apartment options than others. I checked in Texas for subsidized senior apartments and there were WAY fewer options. We have a ton of options around here. Now that said, the regular apartments in Texas can be pretty affordable so maybe that's part of the reason there aren't a lot of senior options.
But- I am not going to get into the option for a regular apartment for seniors. If you're considering this route, then you're likely well aware of the local costs, benefits, and drawbacks to a regular apartment.
Cost of Option
The places I was contacting ranged from $800-1260 a month. Most units were 1 bedroom and the more expensive ones were 2 bedroom, 1 bathroom. The price included water, trash, sewer, and parking. Residents needed to earn around $14-45k per year, depending on the facility.
Comparison: Regular 2/2 apartment in area is $1750/month.


55+ Retirement Communities (Private Pay)
This particular choice actually inspired my post. I saw this viral video on Facebook the other day and was super annoyed. It claimed that taking cruises back to back was cheaper than retirement home options. Eh. Wrong. Retirement communities are cheaper, unless you need very intensive care (nursing homes can run $4000-6000 a month but provide intensive care for those who can't care for themselves), in which case a cruise ship isn't a viable option anyways. Not to say there's anything wrong with going the cruise ship route if you have the money- but you certainly WILL NOT save money.
Benefits
These places are pretty epic.
The staff is REALLY nice. But of course, when you pay this much I suppose it's to be expected.
Activities! Lots and lots of activities!
Transportation
Meals prepared for you AND they will make meals for your dietary needs- ie. diabetic meals.
Most of them seemed to offer housekeeping every week or two.
Seems to have more openings than the senior apartments do.
Drawbacks
Pricey. Reallllllly pricey.
Cost of Option

I apparently didn't save the prices on most of these because they were wayyyyy beyond our price range, but I found the prices for one place. Studios started at $2900/month (one person) and the prices went all the way up to $5347/month for a double occupancy 2/2 cottage. Community fee of $6000 (one time), fees for pets, fees for carport, fees for cable, etc. But your meals are all taken care of. There's transportation provided.
55+ Homes (to purchase)
This seemed like a good option. I've heard that the 55+ communities are a bit more flexible with pricing and you can get some good deals. Have I SEEN any great deals though? No, not in our area. It seems like they run around the same prices as the regular homes and town homes. And not only that, a lot of the 55+ homes were ridiculous options for the age group. Tons of stairs, tons of square footage, and pricey. I'm not sure what the deal is. If you're 55+ and purchasing your "forever home" then I'm guessing you may want to forgo 4 stories worth of stairs in a $500k townhome.
I did see some reasonable 55+ homes in Delaware which was an option we looked at. Those were really reasonable and one story. Camden, DE is about 1.5 hours from us and had homes in a 55+ community for $110k+. Unfortunately, those homes also had lot rent at $500/month. Which again… eh? I suppose it depends on what you're getting for that money, but it still frustrates me.
Benefits
You own your home. You can eventually sell it.
Theoretically cheaper than a non 55+ community. Theoretically.
Drawbacks
Availability is poor in our area.
Need to have good credit and the finances to get a home loan (or to buy outright).
Cost of Option
In our area, I've seen some 55+ communities with single story or two story homes. They're pretty small and seem to run $250-350k. I didn't feel like they offered much in the way of benefits for living in them. So I'm a bit puzzled. But the options in another area might be better.


Mobile Home Community or Mobile Home on Private Property

Benefits
You get a great house for a low price.
Quick turnaround for getting a home.
Drawbacks
The homes don't seem to stand up to long term wear and tear as well as a traditional home.
Lot rent is expensive… you'd probably be better off financially to purchase a more expensive home or condo.
Home depreciates
Lot rent can be raised. And moving that home is REALLY pricey if you don't want to put up with it and decide to move elsewhere.
I'm not sure what lot rent includes but I saw some VASTLY different qualities of upkeep in some of the communities- with about the same lot rent. For $600 a month, the road should be properly cared for.
Cost of Option
The cost of the home itself seemed pretty reasonable. The homes that were $89k seemed great, although I was not 100% what the final cost would be with taxes and add ons.
My bigger issue was the monthly cost of a lot. In our area, it's apparently difficult/impossible to get approval to put a home like this on your own property (and given the price of property, probably not worthwhile either). And the sewer and electric hookups can be pricey. From what I've read, the ONLY time that buying a trailer is a worthwhile financial investment is when you put it on your own lot- because then at least your property value increases, even if your home value decreases.
When I looked into the cost of moving into a trailer park community, they were REALLY expensive. Lot rent is *out of control.* A local lot by us runs $600/month and the upkeep on it is terrible. I'm not sure what the $600 includes, but it didn't SEEM like much. I kept thinking "Surely, this much money must get you more than this?!" So I don't know.
I am not quite sure the appeal of living in a home you purchased and paying so much for lot rent. I hate the idea of throwing away $600/month on lot rent, particularly when senior apartments can cost as little as $700/month in our area.
I did compare to lot rents in some other areas and didn't see they were much better.


Purchasing a Regular Home
I don't think this option requires too much of an explanation. Find a small home, townhome, or condo that would work. Condos are a nice option because they're less maintenance but they do have a condo fee. I've found townhomes have fewer fees and I like that they get some garden and backyard. But townhomes have lots and lots of stairs in our area.
Benefits
No strict rules about who can live in the community. This is important if you think there's a really good chance you may end up with custody of a grandchild due to their parents not being able/willing to care for the child.
If you love watching kids come and go, a normal home gives you the option of still being surrounded by people of all ages.
Could potentially move into the same neighborhood as a family member so you could have your own space, but still be nearby to help each other out.
If you need a higher level of care, you can rent out your home/condo/townhome to someone easily and use the income to help towards your cost of care.
Drawbacks
No strict rules about who can live in the community.
Potentially more expensive than living in a 55+ community and with fewer resources.
Cost of Option
Whatever housing costs in your area. For our area (Columbia, MD and thereabouts), condos generally run around $150k-250k+ with condo fees of around $250/month. I've seen some townhomes starting as low as $150k but with lower fees than a condo ($40/mo). Single family homes range, of course, but most of our homes are $250k+ and leaning heavily towards $300k+. I found some good deals, but those tend to by short sales or foreclosures.
Purchasing a Home with Rental Units
This was something I really considered, although it probably wouldn't be the right choice for a lot of people. Rents are high in our area and I had noticed a few homes that were split into rental units. I was considering purchasing and renting out all the units but one that my mom could use. Of course, depending on the income and interest of the senior, they could always purchase the building themselves and manage it as a business venture. It might bring in a nice amount for someone who is retired.
You will need to work with a realtor if you decide on this option as I couldn't find any site that listed homes split into apartments. This is one area that MRIS listings are far superior. You'll need to make sure the units are approved as rentals by the county/state (or whatever). Our area requires lead testing approval- and you could be in for EXPENSIVE repairs if you bought a home with lead. A realtor is your best bet to walk you through the options here.
Benefits
The home could pay for itself with the rental units. If you put all of the rent money towards the mortgage, repairs, and management then you're paying into your home value. You eventually get the money back when you sell the home.
Drawbacks
There's more risk involved. You may have rental apartments empty for periods, may need to evict someone who doesn't pay, or you may end up with a ton of repairs.
Potentially more expensive to purchase.
Cost of Option
You can hire a company to manage the rentals for you. Fees seem to be around 50% of the first month's rent for the finder's fee, then 10% of the rent each month after that.
I was finding viable rental properties around $375k in Maryland. They ranged from 2-4 units. I'll walk you through my math for a home that had two buildings on the property and four units total. It is SUPER cute and in a great location. I won't lie- I was a bit enamored with this option.
The main house has 3 units: One two bedroom, one bathroom unit and two one bedroom and one bathroom unit. The second home on the property was two bedrooms, two bathrooms. Super cute. Legal apartments. Some of the units were rented currently. The purchase price on the home was $375,000 with yearly taxes of $4,000. Gross annual expenses were calculated at $7,000 per year. I am not 100% if that includes a management company or if they managed it themselves. Not 100% what the cost for insurance would be on the property or if that was included.
Rental cost for the 1/1 units were $625 each per month. Rental on the 2/1 was $875 per month. The listing didn't state a rental price on the 2/2 house so I assume the owners lived there. The units did not have washer/dryers so the listing mentioned the owner could make extra money by providing laundry service. I'm not sure if they mean washing others laundry or offering a separate area with pay machines.
If you put down $100k on the home, the mortgage calculator said that a 30 year loan on $275k would give you a mortgage of $1,300/month. Rental income on the three units (not including the house) would total $2,125 per month. Monthly expenses, including the mortgage, would be $2128/month. Now note that this assumes the person in the 2/2 house is paying nothing at all besides the $100k downpayment.
Cost? $3/month for the months where the units are fully rented plus any additional costs that pop up beyond the $7k/year estimate. And all of that money goes into the equity of the home. Of course, if a unit goes empty for a year then you're putting more of your personal money into the home. But that money still goes towards your mortgage. You get that money back (short the interest you paid) when you sell. And you can deduct your interest paid from your taxes every year.
It's a bit risky, but honestly… I love this type of investment. Not everyone does. Because you still need to deal with bad tenants… they do happen. My friend has two rental units in a townhome she owns and one of the tenants is ridiculous. But they pay the rent. It just costs her time to deal with it.
Living with Family
This was not an option for our family. We couldn't afford a home with a separate in-law unit in our area and we just couldn't handle adding two more people to our household. Particularly not when my mom smokes and I'm asthmatic. But in many areas and particularly if you have the ability to build your own home, this might be a viable option. My grandma lived with us as children and it was really a huge help. She had her own living area and bathroom that was added on to the home. She cooked and ate with us, but that also helped offset the chore load for everyone in the family. If you have the right family dynamic, this can work well for everyone.
If we'd had a big enough property and lax rules in our area about adding additional buildings, we might have considered adding a granny pod or one of those cool tiny homes.
Benefits
The ability to help each other out. If your kids are in bed asleep and you want to run out, you can let grandma/grandpa know you need to run out for a quick grocery trip and nobody is affected. If grandma needs help getting groceries in, you can easily assist her without driving to her home.
I LOVED living with my grandma. I ended up feeling very close to her as a result.
It raises value of your home if you ever decide to sell it.
Unit can be rented out if it's ever vacant- IF you set it up like a proper apartment.
Drawbacks
Setting boundaries might be difficult.
Wouldn't work for some family dynamics.
Costly to add on to home and your area may not allow the addition.
I imagine this would have a slow turnaround for getting it approved and built.
Cost of Option
The cost? Someone's sanity if it's not a good "fit" for your family dynamics. Mental health care isn't cheap. All joking aside, it's important to take into consideration how much privacy that you (or your spouse) feel you need from the family members in consideration. Some families are cool with having their grandparent live in the room next to their bedroom. Others want them to have their own kitchen, bathroom, and separate living space.
Personally, I prefer the option of a completely separate living space with a kitchen and bathroom. My thought is that it would increase resale value on the home to have a rentable apartment in the case you ever move (or don't need the separate unit anymore). If you did something like that, it would be beneficial to get the utilities separate for the apartment- again, in case you ever needed to rent it or wanted to sell the house with a "rental unit included."
In terms of financial costs, Med Cottages (Granny Pods) are $40k+ and don't include a kitchen. They do, however, appear better suited to families where the grandparent needs a lot of medical attention. I am not sure about how much a whole in-law unit added onto the house would cost, but based on some really quick research, it would likely be around $50k+. Additions are NOT cheap and you have to do a lot of initial groundwork to get approvals from your county. You may be better off purchasing a home with the in-law unit already attached or building a home with one from scratch. But again- this all get pricey and it depends on the area you live in as well. And gosh it's hard to find homes with good in-law units.
Conclusion
My mom ended up deciding not to move after I did all of this research which was a huge disappointment, but I HOPE that this post is helpful to someone. Maybe it will save you a lot of time!
My choice? I think I would live in my family home until I got too old to do so anymore. Then I'd sell it and move to one of those country club senior homes near to both/one of my kids. In fact, this research has had one benefit in that I now KNOW what I need to save towards. Retirement planning is sort of difficult when you don't have an understanding what you're planning for… but this helped me think more about this.
Love it? Pin it!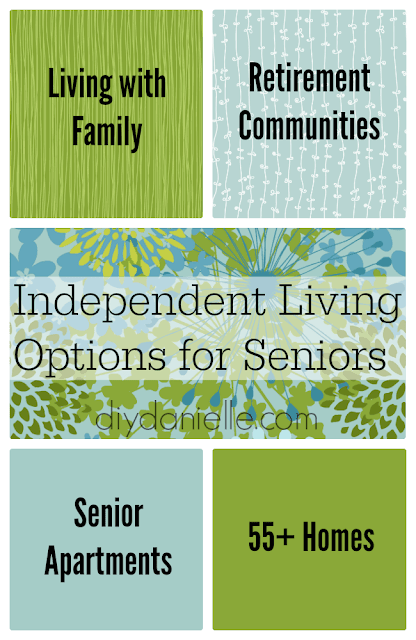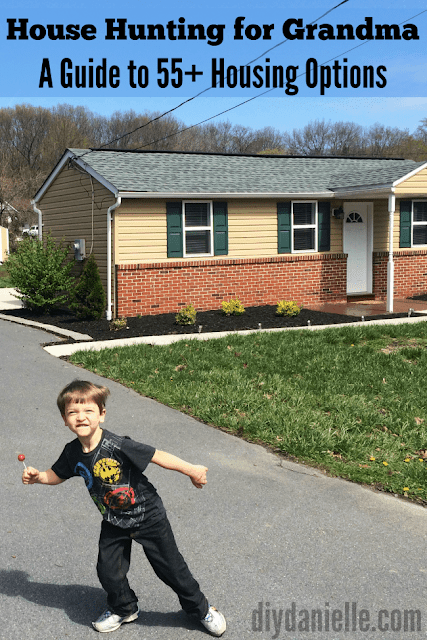 Thanks for taking the time to read this post! I really appreciate the time you've taken. Please share, like, and pin my post if you enjoyed it. Follow me on social media and subscribe to my email list to keep up to date on all of my latest projects!

Disclosure of Material Connection: Some of the links in the post above are "affiliate links." This means if you click on the link and purchase the item, I will receive an affiliate commission. Regardless, I only recommend products or services I use personally and believe will add value to my readers. I am disclosing this in accordance with the Federal Trade Commission's 16 CFR, Part 255: "Guides Concerning the Use of Endorsements and Testimonials in Advertising."