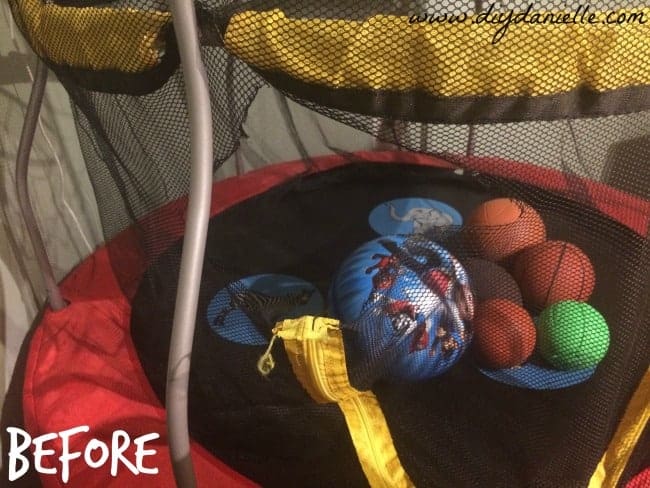 How to Fix a Ripped Trampoline Net
This post may contain affiliate links. Using these links helps support my blog. Thank you!
We have an indoor trampoline for the boys and we LOVE it for the winter when they can't get their wiggles out as much outdoors. Within a year, however, we started to get a rip near the top of the zipper on one side. Looking at my friend's similar trampoline, I noticed that she has had the same problem. Except I let mine go and now I have a giant rip because when toddlers see a rip, they like to stick their hands in it and see it get bigger and bigger. Oooo magic. Seeing I sew, it was sort of ridiculous that I let this go, but I finally got it together and repaired it recently.
If you own one of these and it hasn't ripped, it may be worth sewing the area near the zipper just to reinforce it so it won't rip.
Supplies
Tutorial
Rather that sewing like you normally would hand sew, you need to stitch like a surgeon. You're putting a knot for every stitch. I was looking for what this stitch was called, but couldn't find it. Alas… either my grandma showed me this as a kid or I made it up as a kid. One of those. I'm hoping I can describe it well enough to be helpful.
First, you want to thread your needle. I double threaded mine (cut thread for double the length that you want, pull thread through eye of needle and tie a knot where the thread ends meet).
Now you want to find one end of your rip. Draw your needle through the mesh of the bottom of the tear and then above the tear. Tie a knot.
Now you'll draw your needle through one of the complete circles above and then below of the rip… this draws the fabrics together and pulls rip closed. Pull your needle and thread through the loop that you create. This should make a strong knot. Continue along your rip. Do the stitch frequently. Once you get to the end, you can make another knot (or three), then cut your remaining thread. Because my rip was so large, I actually had to keep rethreading my needle with more thread.
Don't be like Danielle. Fix your rip sooner rather than later.
If you don't have a needle, you could always just use embroidery thread and tie individual knots every .5″ or so, but that would be more time consuming if you have a rip like I did.
Hope this helps!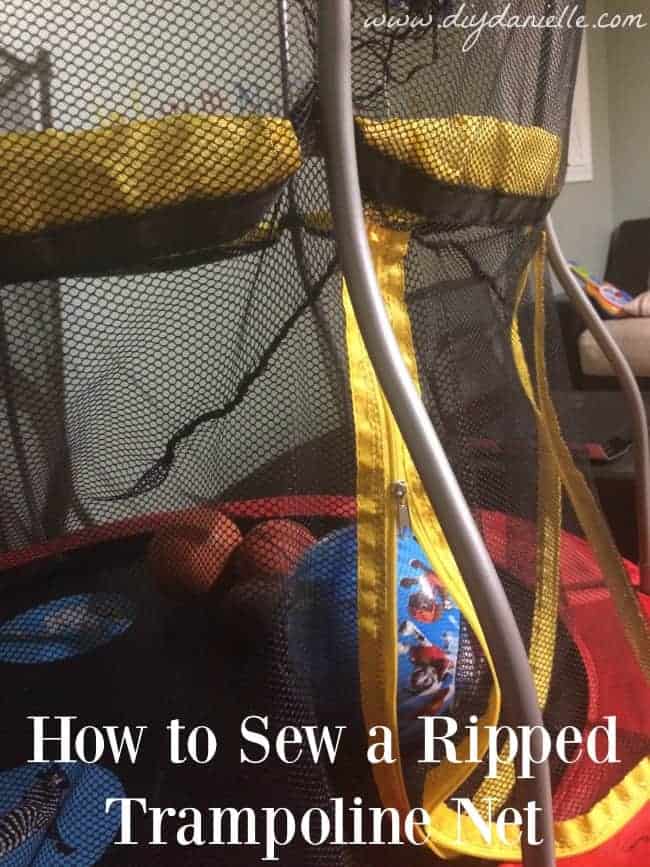 Thanks for taking the time to read this post! I really appreciate the time you've taken. Please share, like, and pin my post if you enjoyed it. Follow me on social media and subscribe to my email list to keep up to date on all of my latest projects!

Disclosure of Material Connection: Some of the links in the post above are "affiliate links." This means if you click on the link and purchase the item, I will receive an affiliate commission. Regardless, I only recommend products or services I use personally and believe will add value to my readers. I am disclosing this in accordance with the Federal Trade Commission's 16 CFR, Part 255: "Guides Concerning the Use of Endorsements and Testimonials in Advertising."