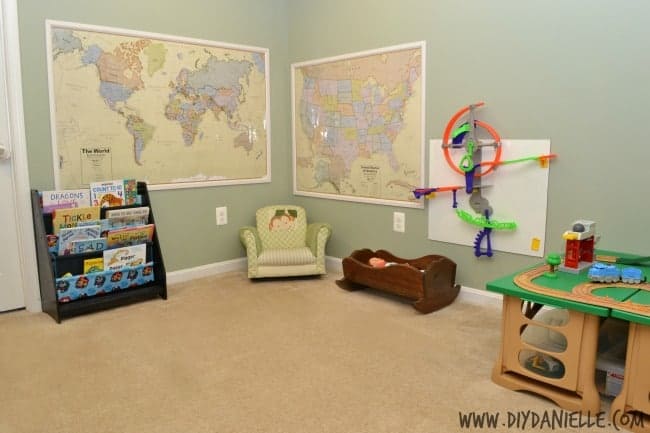 How to frame large maps for wall decoration in a home school area of a basement playroom.

My oldest son, 4 years old, loves maps. He's got some odd interests for a little guy, but maps are gorgeous so we bought two huge maps at Costco and tacked them up on the walls. But then they ripped where the tacks were and they were getting a lot of wear and tear. So we decided to frame the maps so they would look more intentionally like wall decor and to preserve them better. There's no glass on the front- the maps have a shiny laminated type covering so it didn't seem necessary.
Supplies
Supplies listed below may include affiliate links to the products.
Wood moulding
Nail gun
Maps
Tape or something to help hold the map on the wall until you can get the wood on.
Wood filler (optional)
Tutorial
Using tape, hang your map.
Cut your wood to the sizes that you need for your map. Using a nail gun, add the frame around the map. You could glue the frame together first if you want.
Finished. So easy.

Optional: You could paint the frame. My husband suggested that filling the holes that the nail gun made would look nicer, but we didn't want to mess around with it and it didn't look bad as is.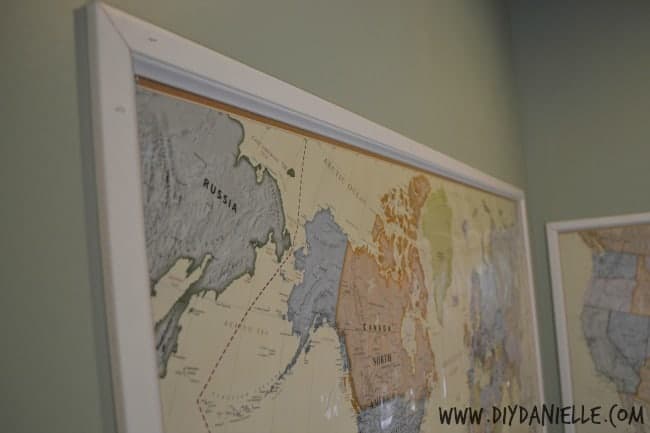 Here's a better view of the frames: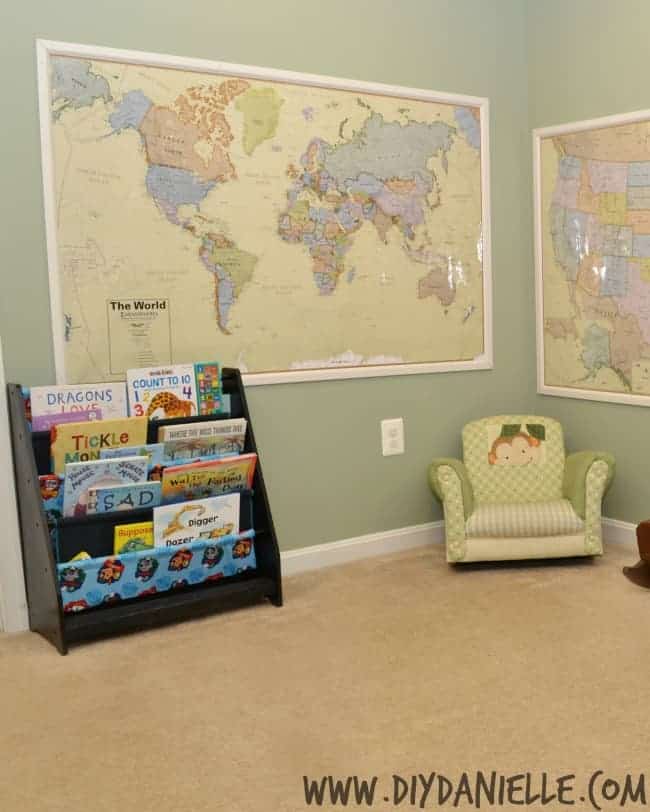 Thanks for taking the time to read this post! I really appreciate the time you've taken. Please share, like, and pin my post if you enjoyed it. Follow me on social media and subscribe to my email list to keep up to date on all of my latest projects!

Disclosure of Material Connection: Some of the links in the post above are "affiliate links." This means if you click on the link and purchase the item, I will receive an affiliate commission. Regardless, I only recommend products or services I use personally and believe will add value to my readers. I am disclosing this in accordance with the Federal Trade Commission's 16 CFR, Part 255: "Guides Concerning the Use of Endorsements and Testimonials in Advertising."