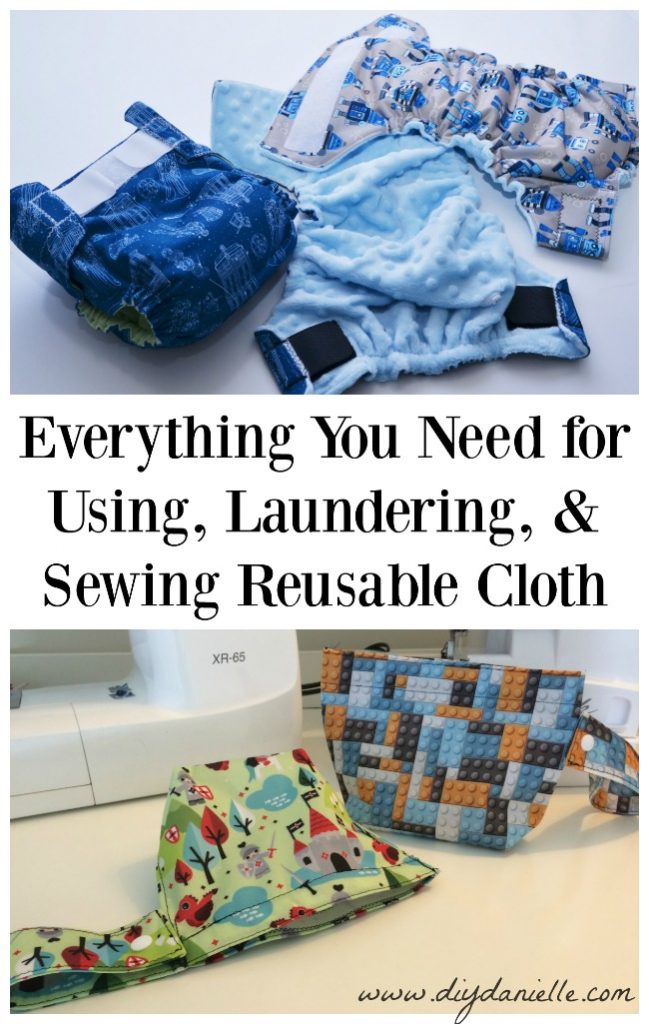 Everything You Need for Using, Laundering, and Sewing Reusable Cloth Items such as Cloth Diapers, Mama Cloth, Family Cloth, Cloth Wipes, Wet Bags, and more! This is a list of supplies you may want to pick up after reading "How to Sew, Use, and Clean Cloth Diapers" (Formerly "The Complete Guide to Using, Laundering, and Sewing Reusable Cloth") by Danielle Pientka.
This page includes affiliate links. Using these links helps support my blog by giving me a small commission on any items purchased.
Are you considering switching to cloth? Do you love cloth diapering? Curious about cloth products such as cloth menstrual pads, wet bags, and unpaper towels? I just released a fantastic book that is ALL about using, laundering, and sewing reusable cloth products. Pick up "How to Sew, Use, and Clean Cloth Diapers" today and get started saving money and the environment!
Below is the list of supplies mentioned in my eBook. Many of the links are affiliate links and using them helps support my blog. Thank you!
Cloth Diaper Products Ready to Use
Other Cloth Products Ready to Use
Laundering Cloth
Sewing Reusable Cloth Items
Patterns
Simple Diaper Sewing Tutorials has some great patterns for cloth diapers and it's all free.
Don't Forget the Book!
"How to Sew, Use, and Clean Cloth Diapers" includes tutorials for how to sew cloth diapers, but also includes information on sewing wet bags, wipes, and many, many other reusable products.
This book includes information on everything you ever wanted to know about using reusable cloth products to help you save money AND the environment. It also has lots of ideas for how to store your reusable cloth to keep your home clutter free!
Buy it as an eBook or a print book here: http://amzn.to/2ygAeQF . It's free to read on Kindle Unlimited.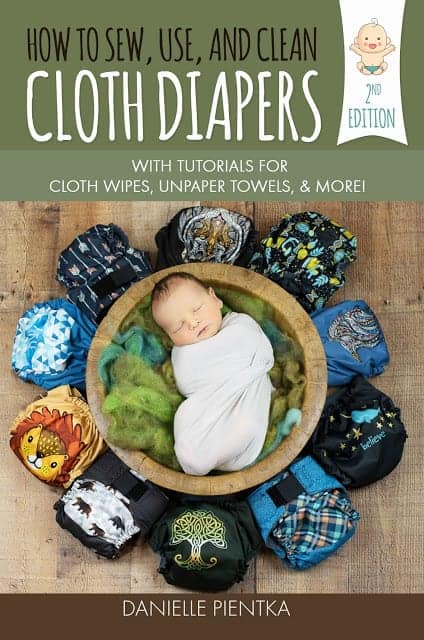 If you purchased the physical copy of the book, here's a list of the links from the back of the book:
Links
for Further Research
Baby
Registries: These sites sell cloth diapers and have baby registries.
I'm sure there are many others.

Cloth Diaper Rentals: I've noticed a few online stores are
offering cloth diaper rentals so you can try out some different
options before making a purchase. You may find one diaper works
better for you and your family than another. These are just a few of
your options for renting cloth diapers.
DiaperServices
:
This is a list of diaper services registered with The Real Diaper
Industry Association. Diaper services deliver fresh diapers to your
door and take dirty ones to launder.
DiaperSewing Instructions and Patterns
from the blog, Simple Diaper Sewing Tutorials: These are some of the
best diaper patterns and instructions I've seen and they're
available for free. The author is absolutely wonderful to offer these
detailed patterns and she has amazing, organized, and easy to follow
tutorials.
DiaperSewing Supplies
:
You can order PUL fabric and other diaper sewing supplies from this
site. I really like the site for my PUL because they offer several
size options for fabric. Joann Fabrics and Hobby Lobby both sell a
small line of PUL fabric, but they don't have a huge selection.
Make sure you use a coupon if you purchase at those stores to save
money!
KamSnaps
:
This is where I purchased my snap pliers and snaps. I think the
prices are reasonable and their pliers stand up to heavy use. I have
one of the earlier models and it's still going strong, but they
only install a size 20 snap. This works fine for cloth diapers, but
if you need to push through a thicker item then you may need a bigger
snap size. They have some new pliers available now that have more
functions to them. If I were still sewing cloth diapers or other
items that required a bigger snap, then I would definitely consider
purchasing a snap press or a different set of pliers.
Thanks for taking the time to read this post! I really appreciate the time you've taken. Please share, like, and pin my post if you enjoyed it. Follow me on social media and subscribe to my email list to keep up to date on all of my latest projects!

Disclosure of Material Connection: Some of the links in the post above are "affiliate links." This means if you click on the link and purchase the item, I will receive an affiliate commission. Regardless, I only recommend products or services I use personally and believe will add value to my readers. I am disclosing this in accordance with the Federal Trade Commission's 16 CFR, Part 255: "Guides Concerning the Use of Endorsements and Testimonials in Advertising."