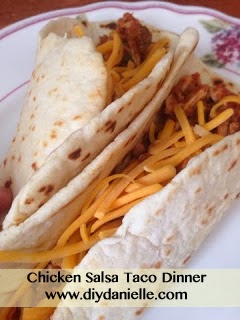 I'm really excited to have my own recipe to share, although it isn't really anything super crazy or fancy.
But it tasted GREAT.
Chicken Salsa TacosFor the chicken, I put four chicken breasts in the crockpot, along with about half a container of my Kirland Salsa that I love, I added 2 tbsp of DIY taco/chili seasoning using this recipe. I added a tiny bit of water (approx 1/4 a cup), but I think I could've skipped that. I cooked it all in the crockpot on high for 3 hours. I think it was ready in about 2 hours, and I just shredded it with a couple forks.
Homemade Tortillas
I always buy the tortillas from the grocery store, but I only had four and we were having another snowstorm so I wasn't able to just run out. I found
this recipe to make my own tortillas
and I had all of the ingredients- although I used unsalted butter instead of lard because that's all I had. As you can tell, most of my cooking revolves around missing ingredients. Ha.
These are some pictures of my process. I've never used my food processor for bread so I was excited to see how easy it was.
Final Product
I love my husband, but he's not overly generous on the compliments unless I ask. He took a bite while I was still getting mine and stopped "Wow." Yeah… totally "wow"… the tortillas really made a huge difference. Whenever I cut out all the prepackaged items with all the crazy ingredients, I find that I LOVE the results.
And for a chuckle, here's G helping me make tortillas… he was SUCH a pro after he did a couple.