Blog Transfer #2: Christmas Gifts 2011
I decided to make Christmas gifts this year, given that I had no personal income at the end of 2011 and I didn't want to spend 2012 paying off a ridiculous credit card bill. This actually WOULD have been brilliant, had I not had an infant to care for. All that time I expected him to be sleeping didn't happen. Fortunately, Daddy B helped out on the weekends and at nights a lot so I did get the majority of my projects completed.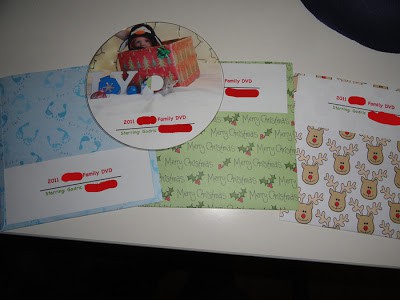 Personalized DVD- My favorite gift
Personalized DVD
What I did was use iDVD and iMovie on my iMac to make a DVD with all of the small video clips I've taken of Baby G, as well as a slideshow with all of his pictures (there are a lot, considering I was only using a couple months of photos). I put some sappy music behind the slideshow (I'll admit it, I cried listening to my own DVD), made a CD sticker with one of his Christmas photos, and then folded scrapbook paper to make CD sleeves. I just LOVED doing this project and it came up super cute.
You can get a template for making your own envelopes (any kind really) if you search for "template" and the envelope type. In this case "template for CD sleeve." You just gotta make sure it doesn't adjust the size when you print the template or it won't work. I can't find the exact website I went to, but here's something close: DIY SlipCover CD Case Template.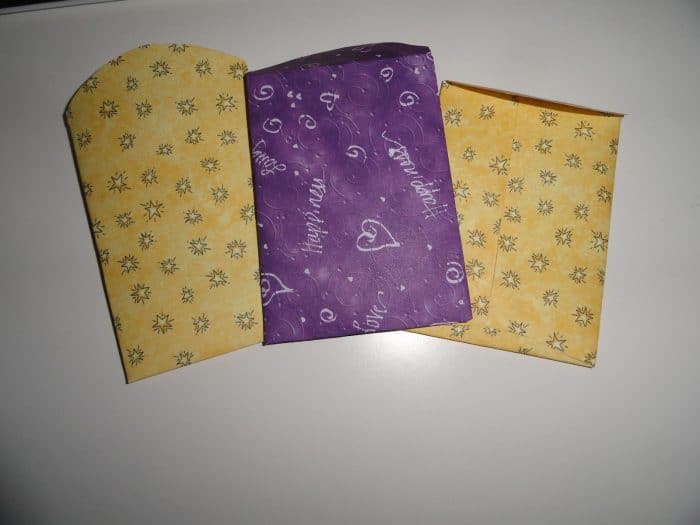 Envelopes
Same idea: I made these small envelopes to put gift cards in. I also used these for small magnets that I made of Baby G on one of the photo printing websites. My in-laws collect magnets of all their kids (you should see their refrigerator!) so we thought it was a great gift (along with photo calendars).
And yes, the majority of the gifts that we got/made had something to do with Baby G. That's one way to guarantee everyone will love their gifts!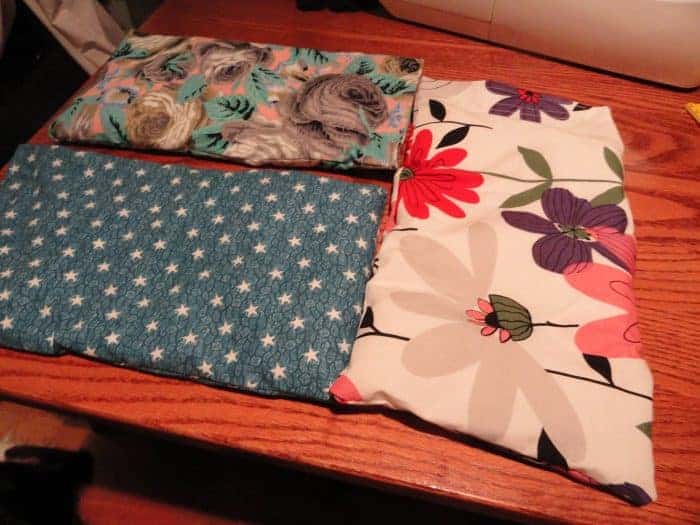 Rice Heating Pads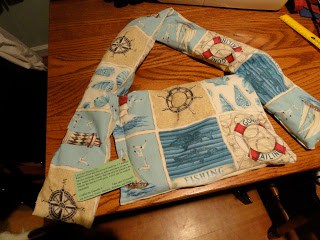 One simple, but great gift for everyone was these rice heating pads. I loved the ones for the neck especially (had to try them out). Daddy B wants me to make some for the house. We've got a few store bought "stink pads" (as my mother-in-law calls them), but don't have any pretty handmade ones. I was too busy with Christmas gifts and other projects to make us some too, then I ran out of rice. I used this tutorial from Sew, Mama, Sew! for the pads, although I ended up changing the sizes.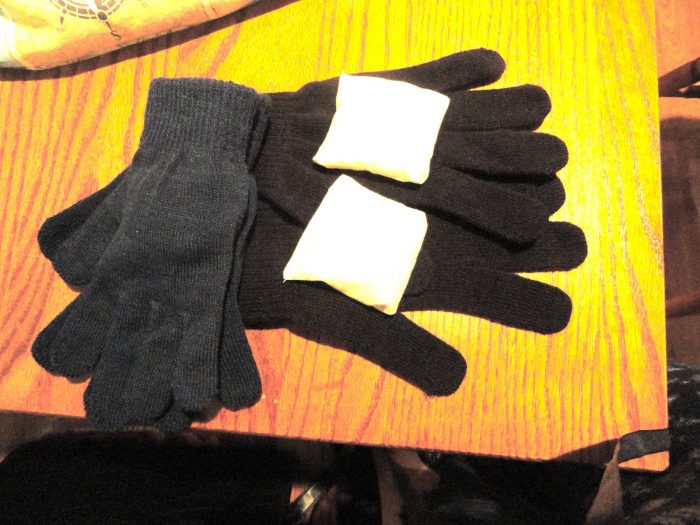 Hand warmers… I can't find the original tutorial that I used, but I just used muslin squares sewn up with rice in them for these. Here is something similar.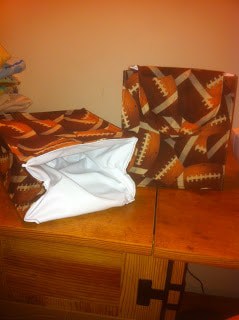 Lunch Bags
For Daddy B, my father-in-law, and my brother-in-law, I made lunch bags…
The inside is made with Pul fabric which is the same fabric that I use inside most of the diapers I've been making. It's easy to wipe down and it can contain a certain amount of "wet" so it is a good choice for the bags. The blue bag was my first try… I think the football bags came out a bit better.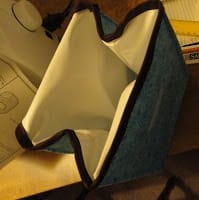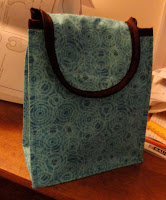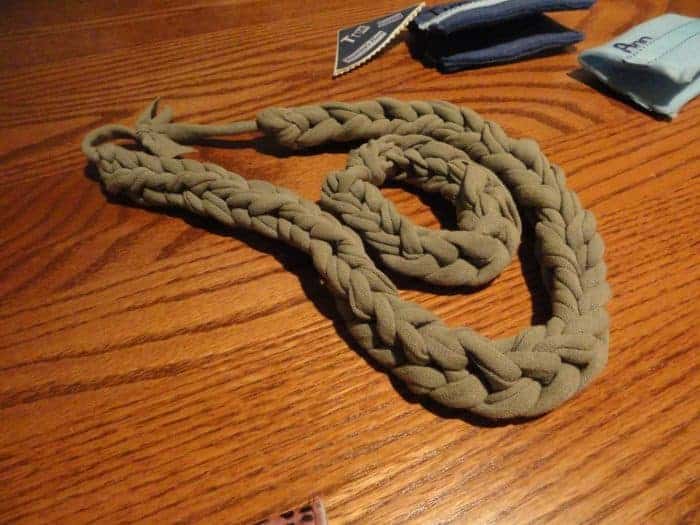 Cloth Jewelry
I used finger weaving to make these necklaces and bracelets out of tshirt yarn. So much fun, so easy, and I LOVE these. I made a bracelet for myself too. It was also an excellent use of all the tshirts that Daddy B has sitting around from various conferences.
Various Smaller Gifts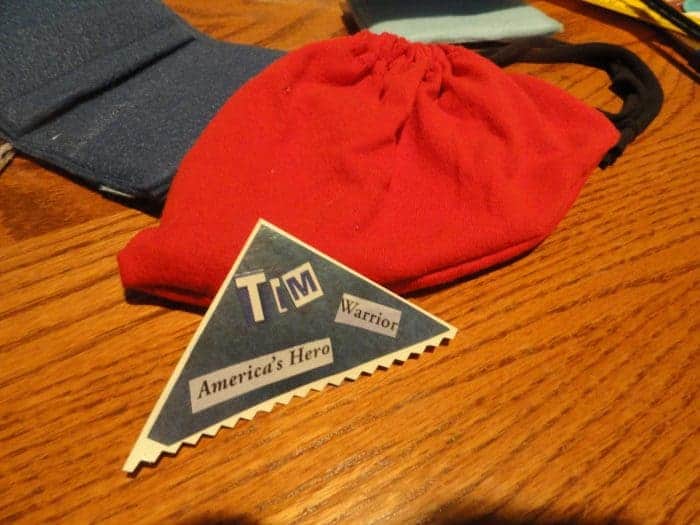 I used tshirt sleeves (leftover from making yarn) to make little drawstring bags to hold smaller gifts in. Tshirt yarn for the drawstring.
I cut off the corner of an envelope to make bookmarks (they go over the page- really awesome bookmarks and hard to lose). Then I just glued pieces of scrapbook paper, as well as words, letters, images that I cut out from the newspaper. The tutorial that I used for this is no longer up unfortunately.
I was so pleased with myself with the upcycling projects… I hate throwing things away because it's waste. So making something really cool out of stuff that would have otherwise been thrown into a landfill makes me VERY happy.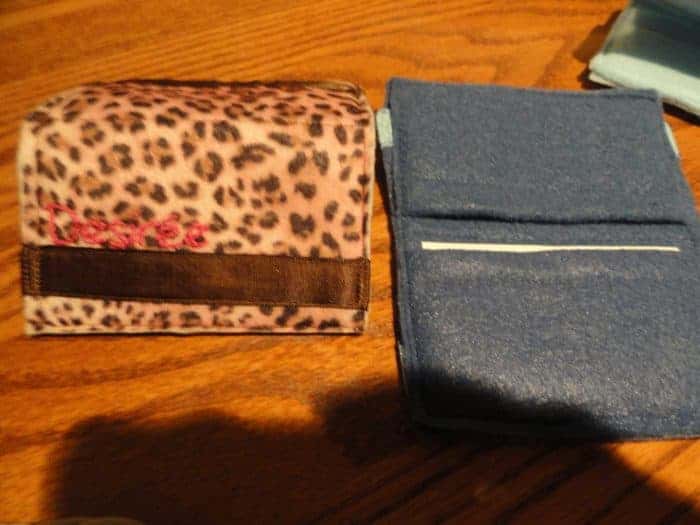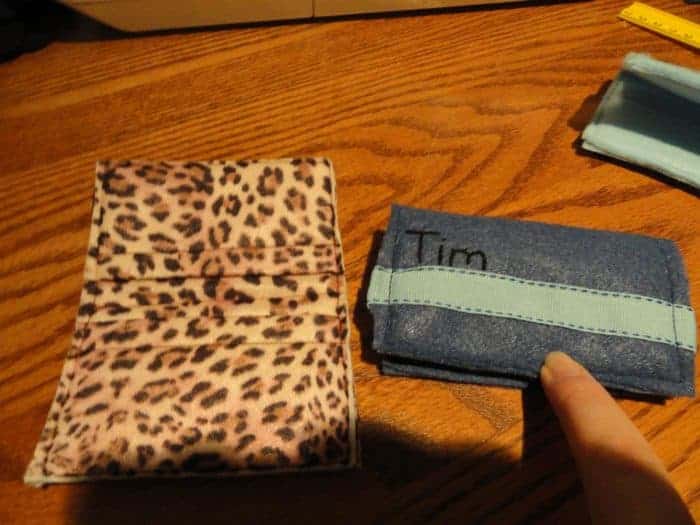 These pictures really suck, but these are business card holders made from felt. I also embroidered everyone's first name on the front. This was all done… um… "freestyle" because I couldn't figure out how to mark the felt without leaving a permanent mark.

Photo Canvas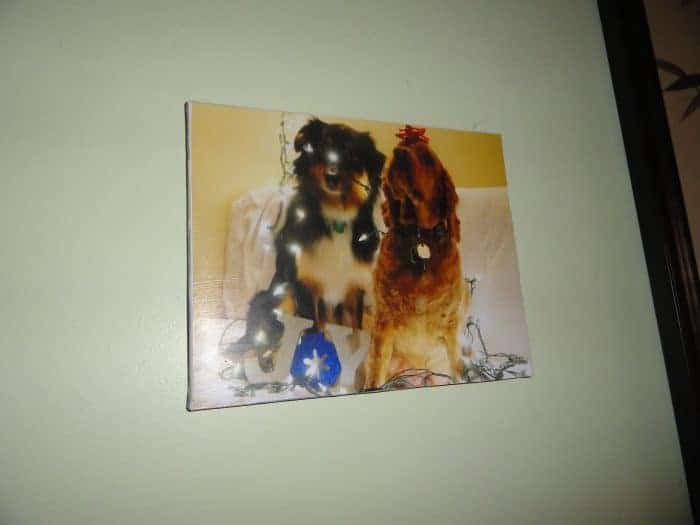 Photo Canvas: This is one gift that I forgot to take pictures of before I sent them to everyone! Fortunately, I made a couple for our condo too so at least you'll get the idea. This was the first I made so it's not QUITE as cool.
I used scrapbook paper for the sides, and ordered 8×10 photos printed from a popular photo website. These were mod podged on to the canvas, which gives the photo more of a matte look (it was a glossy photo).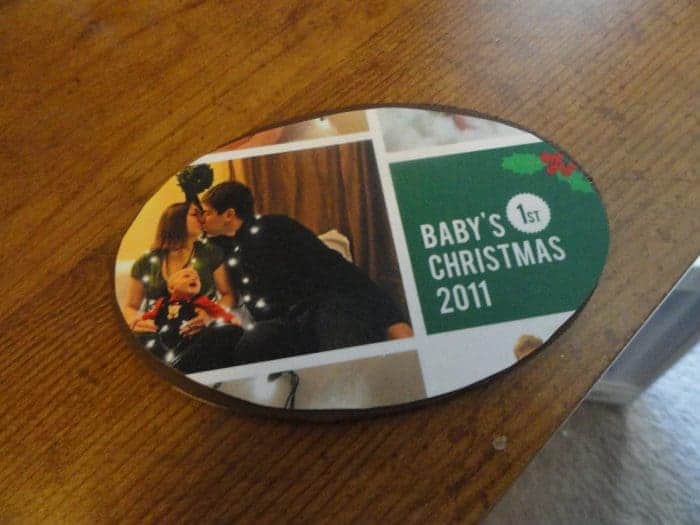 Christmas Ornament
I wanted a "Baby's First Christmas" ornament that was durable and would last, but that I could also make myself. I know how easily those cute ornaments that you can paint break- I have a pile of broken ornaments because I'm just not that careful. I decided wood would be a good option after looking through various tutorials for ideas. I cut up a piece of our 2011 Christmas card, painted a piece of wood from the craft store with acrylic paint, mod podged the Christmas card on. I also mod podged a piece of scrapbook paper to the back to give it a finished look. Eventually Daddy B will make a little hole so that I can use the pretty Christmas ribbon that I have to finish this. Great way to keep old Christmas cards.
And that's that… I hope you enjoyed and you'll find the links to various tutorials to be useful.