Blog Transfer #5: Beginning to Sew Cloth Diapers
This post may contain affiliate links. Using these links helps support my blog. Thank you!
These are some of my initial attempts to make cloth diapers. I just wanted to show them off!
Diaper Covers: Just a reminder, but these are the cloth diapers that have a Pul interior and can have a cloth exterior. The two zoo prints have flannel exteriors which hasn't held up as well, but they were my first two attempts and I didn't want to waste my good cotton fabric.
The airplane diaper cover is made with cotton and bubble fleece… I love this and the material has held up really well. The inside (not shown) is just white Pul. I made two other covers (not shown) that have the bubble fleece material.
Fitted Tshirt Diaper: I have more pictures of this one in the "Exploring Cloth Diapering" blog, but I made this from an old tshirt. This is a tutorial for an easy fitted diaper from tshirt … you'll need elastic and an old tshirt… how easy (and cheap) is that?!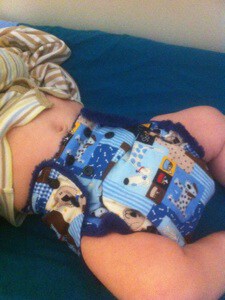 AI2: And last, but not least… my attempts at AI2's. These are (by far) my coolest diapers. I also made a matching wetbag to go with the skull diaper. I ordered snap pliers so that I can start putting on snaps for all of my diapers. These diapers were made from the Superfit OS Diaper pattern from BaaBaaBaby (purchased pattern). The woman who made the pattern has amazing tutorials and the pattern comes with great instructions. She also has some free patterns that are available on her website as well. The instructions, however, are for pocket diapers, so I used this tutorial to make this pattern into an AI2 with hidden Pul. My inner is fleece and my outer is cotton. There's a layer of Pul in between those two layers for waterproofing.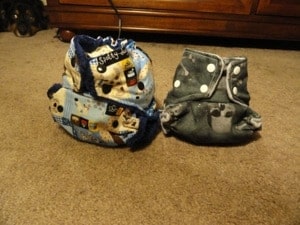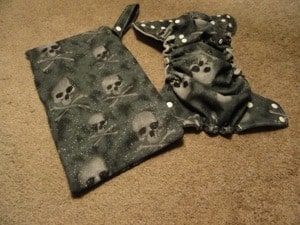 When I put these on Baby G, I have to add an insert to the diaper area. Fleece (which is what the inside of the diapers is made of) will not absorb urine so I need something with some absorbency.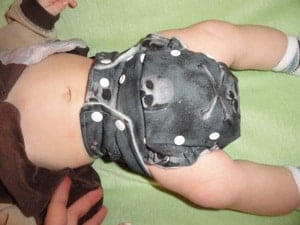 I trifold prefolds right now to use. I also made some inserts with tshirt scraps, but the inserts are HUGE and as Daddy B says, "They make [Baby G] look like he has a HUGE package!"
If you're interested in sewing cloth diapers, CD Sewing 101 Spreadsheet is a spreadsheet of tons of resources for making cloth diapers, put together by the ladies on the Cloth Diaper Sewing 101 Board on Babycenter.com.
Are you considering switching to cloth products? Do you love cloth diapering? Curious about cloth products such as cloth menstrual pads, wet bags, and unpaper towels?
I just released a fantastic book that is ALL about using, laundering, and sewing reusable cloth products. It even includes instructions on this project! Pick up "The Complete Guide to Using, Laundering, and Sewing Reusable Cloth" today and get started saving money and the environment!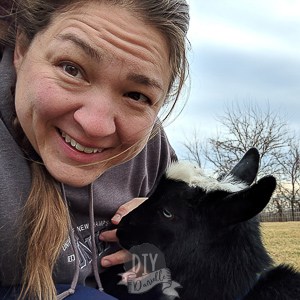 Danielle Pientka is the sewing and DIY blogger behind DIYDanielle.com. She taught herself to sew in 2011 when she wanted to make cloth diapers for her first son. She's been sewing everything from ecofriendly items to kids products to clothing since, as it has become a passion. She loves learning how to do new things and teaching others in the process. She hopes to inspire other moms to take time for themselves to find their own creative passion.
Danielle lives in Maryland with her three young sons and her husband, Brandon. In her spare time, she gardens, reads, horseback rides, and has a small homestead with goats and ducks. Visit her shop to buy patterns or her sewing eBooks. Subscribe to her newsletter to get blog updates, free patterns and other printables by clicking here.