How to make a child's bathroom sign to remind your children to brush their teeth! Get a free Silhouette design below!
This post may contain affiliate links. Using these links helps support my blog. Thank you!
I wanted to create a sign for my sons' bathroom and had a cute phrase as an idea to put on the wall. I recently got a Silhouette machine so I was pretty excited about being able to use it. Initially I was going to put the words on the mirror or wall, but I realized that my 651 might stick a little *too* well and I wanted this to come off in case we ever sell our house.
This came out so pretty and it was mostly accidental. I was looking for a piece of wood in the garage to use for this sign and I came across a piece that my sons had colored with sidewalk chalk ALL OVER. I decided to see what it would look like if I spray painted over it. Because… lazy. Well, it came out GORGEOUS. Love, love, love. And isn't it just so much fun when things come out nice when you're being lazy?Oh and in case you missed it, you can sing the song to "row row row your boat."
Supplies
Supplies listed below may include affiliate links to the products.
My free printable (get it at the bottom of the post!)
Scrap wood
Command strips (I used small ones but they didn't hold well so I'd use medium or large, depending on how heavy your wood scrap is)
Paint, I used spray paint
Transfer paper for the vinylCost: $0! I had all of the supplies on hand
Tutorial
First, color your board with sidewalk chalk.
Spray paint.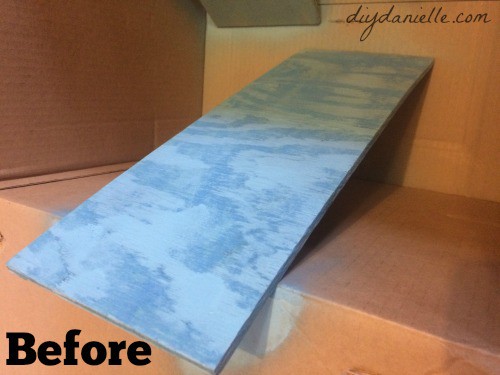 Print your wording on your Cameo and apply using transfer paper.
I hand painted a toothbrush and the toothpaste with my paint pens. These are great. You could just add a toothbrush design from the Silhouette library too though.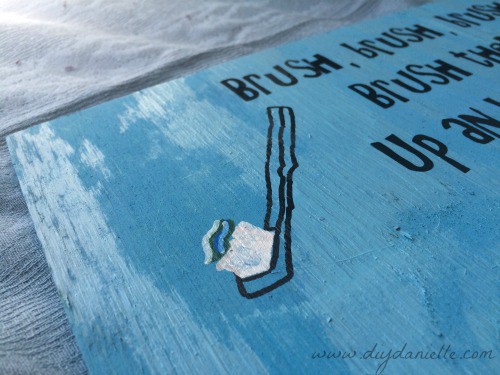 I applied a layer of mod podge on top after it all dried, hoping that it would seal it a bit. I probably should/could have used a sealer of some sort.
Add command strips to the back of your sign to hang it. Make sure they're stuck on well.
And you're done! Super easy.
Thanks for taking the time to read this post! I really appreciate the time you've taken. Please share, like, and pin my post if you enjoyed it. Follow me on social media and subscribe to my email list to keep up to date on all of my latest projects!

Disclosure of Material Connection: Some of the links in the post above are "affiliate links." This means if you click on the link and purchase the item, I will receive an affiliate commission. Regardless, I only recommend products or services I use personally and believe will add value to my readers. I am disclosing this in accordance with the Federal Trade Commission's 16 CFR, Part 255: "Guides Concerning the Use of Endorsements and Testimonials in Advertising."