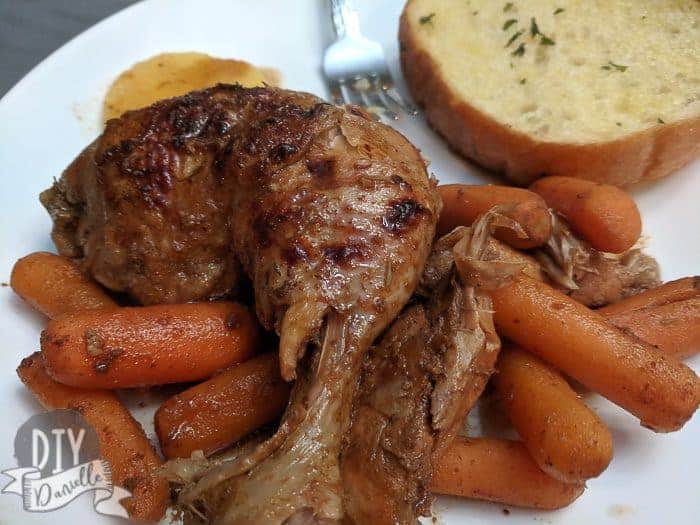 The best meal planning app and website for changing how you plan meals, shop, and cook for your family. An introduction to the Platejoy meal planning service.
This post may contain affiliate links which may earn me commissions should you click through them and take certain actions. As an affiliate for Amazon, Cricut, xTool, Home Depot, and other sites, I earn from qualifying purchases. Please DIY carefully. View my full legal disclosures here.
Please read the whole post so you don't miss any important information!
I received a one month trial in exchange for an honest review on this blog post. This blog post is my honest opinion of this service.
When I first heard of Platejoy I thought "Ohhhh NO. I love having my food delivered to me from meal delivery companies. I DO NOT want to do any work at alllllll."
Meal planning was a dirty word to me.
But then I started having health issues… I should probably follow a full FODMAP diet, but I usually just avoid egg (eating it makes me super sick).
Many of the meal delivery companies were difficult to browse for allergens, and they are also pricey. If I forgot to cancel a week or pick my meals, I'd end up with meals delivered that had egg in them.
And at our new house, our driveway is 1/4 mile long so we found that those meal companies tend to leave the box by our mailbox. This resulted in spoiled or soggy food.
So I started really looking into WHAT Platejoy was… and it's SO MUCH more than I ever thought! I'm so excited to use this service. Platejoy gave me a month trial so I could write about the experience, but I think this is something I'll keep up indefinitely. It took the pain out of meal planning and shopping for me. And the price is right.
Even better, this couldn't be timed better- I was just diagnosed with Mono (y'all, I CANNOT EVEN- if you follow my blog, you might remember I had Shingles in April). Simplifying my life is EVERYTHING right now because I need to get some rest.
Let me introduce you to Platejoy.
What Is Platejoy?
Platejoy is a meal planning website and phone app that helps pick you out meals like the ones you'd get from Blue Apron and other companies… but you can shop for the ingredients yourself, saving money in the process.
Don't like shopping? You can click ONE button to send your ingredients list to Instacart and have your food delivered!
The best part is the service caters to special diets… so if I ever decide to behave and follow a FODMAP diet for a month, they'll give me the tools I need.
Quite frankly, this type of service is invaluable to me. I just can't organize myself around meal planning for a food allergy… since being diagnosed with egg issues, I have pretty much given up on food or cooking. Grocery trips are horrible… I have to read labels while trying to keep the kids entertained. Everything has egg. 75% of easy freezer meals have egg.
When my egg intolerance was diagnosed, it made almost my entire handmade recipe book obsolete. It was PAINFUL.
What this boils down to is this- Platejoy lets you do all of your meal planning and shopping with about the same amount of energy as picking out meals from those meal delivery services.
I love the idea of using this service as a way to figure out how to eat a certain type of diet- whether it be a vegetarian diet, a diabetic diet, etc. It's SUCH a great tool.
Initial Setup & Diet Choices
First, you're going to tell Platejoy about your family- specifically each person's gender and whether they eat a kid size meal or an adult size meal. For adult meals, you are asked if the person likes small, large or normal portions.
Diet Choices
These are the following items you'll be asked about during setup so the app can determine your food preferences. There's a LOT of options, but I'm going to run down a few of the ones that were important to me.
Are you limiting carbs? Options: No Restrictions, Low Carb, Mediterranean Diet, Paleo, Diabetic, Ketogenic, 30 Day Cleanse, Low FODMAP.
How often do you eat meat? Options: No restrictions, no red meat, pescatarian, flexitarian, vegetarian, vegan.
Do any of the following apply to you? Options: Low sodium, gluten free, kosher, clean eating, dairy free, pregnant/nursing
Are there any ingredients you prefer to avoid? (this is relevant for allergies too) Options: Added sugar, avocado, beef, bell peppers, chicken, cilantro, etc. There's a long list and you can input ingredients. I am allergic to shrimp and lobster, but not all shellfish so I entered each manually.
What statement describes your feelings on seasonal produce? Options: Out of season produce is okay or not.
Which best describes you? Options: I like variety and different ingredients, even if it costs more. Or not.
How do you feel about batch cooking? Options: I prefer/don't prefer to make meals in batches (or have leftovers)
What kind of recipes are you looking for? Options: New things/Different Ingredients, Familiar/Family Friendly
Where do you shop? Options: Traditional grocery store or stores like Whole Foods/Wegmans who have more specialty ingredients
What kitchen appliances do you own?
Preferences for types of milk, bread, rice, and pasta
How much time do you have to cook dinner? Options: 20 min, 20-30 min, 35-50 min, More than 50 min is fine for make-ahead meals (like slow cooker)
Here's a quick look at how I added other allergens/dislikes… be careful of what you add though. I don't love raisins as a snack, but I've had hamburgers with raisins in them that were delicious. Similarly, I am not overly fond of nuts, but I love recipes like pesto that have nuts in them.
From what I can tell, Plate Joy will NOT give you a recipe with those ingredients in it once you add the item to this list. I listed exclusively items I cannot eat or have never had a good experience with (eggplant is a hard no).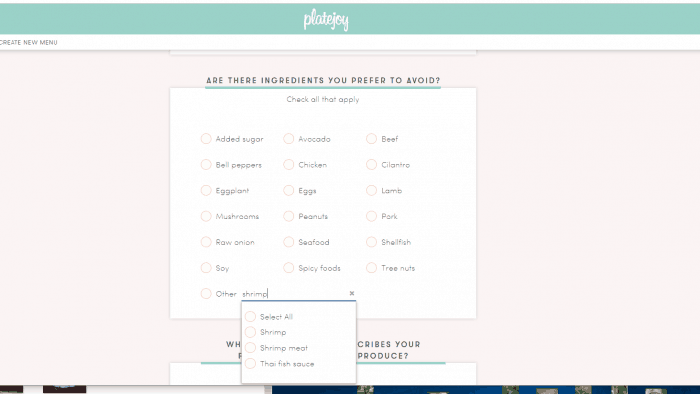 Meals for each week are selected to limit food waste and maximize variety. Awesome, right?
Batch Meals
The batch meals option was really appealing to me because I'd rather cook 3 of something and save two meals for another day.
Here's part of the list of batch meals that could have been picked for me this week…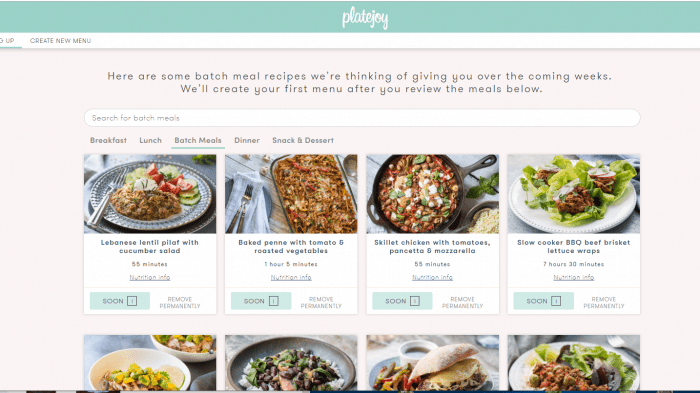 My Choices for the Week
Here are my choices for the week. The batch meal makes THREE meals which I'm a bit curious about how I'll cook/freeze/whatever. If it works out well, I'll probably try to cook two batch meals each week to fill the freezer. That's my hope.
Breakfast (only selected one meal because I keep it simple with cereal usually): Melon, Prosciutto, and Avocado Breakfast Salad
Batch Meal: Instant Pot Balsamic Glazed Chicken and Carrots with Polenta (we'll be cutting up our home grown chicken to make this meal)
Turkey Cranberry Gouda Wrap
Creamy Steak & Feta Quesadillas
Snack/Dessert: Mexican Chocolate Shake
Don't these sound delicious? My automated selection was a pasta meal, but I swapped it out to avoid SOME FODMAP triggers, haha.
Meal Taste
I am only giving you my judgement based on the one week because I wanted to get this post up before I leave for a conference. I'll try to update after we've had a few weeks to experiment.
Here's a quick shot of the quesadillas being prepared. This had such a unique blend of ingredients.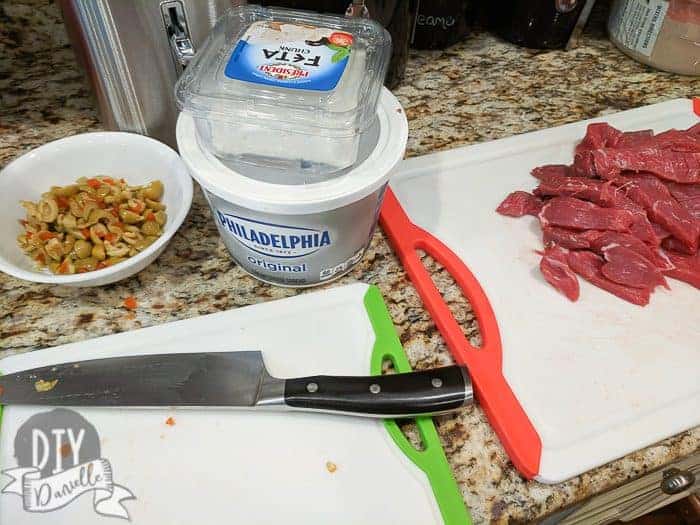 Here's the quesadillas after they were cooked. I liked the taste of this meal, but the olives added a unique flavor. I think mushrooms would have been a better alternative. We had a few leftover which I ate for my lunches.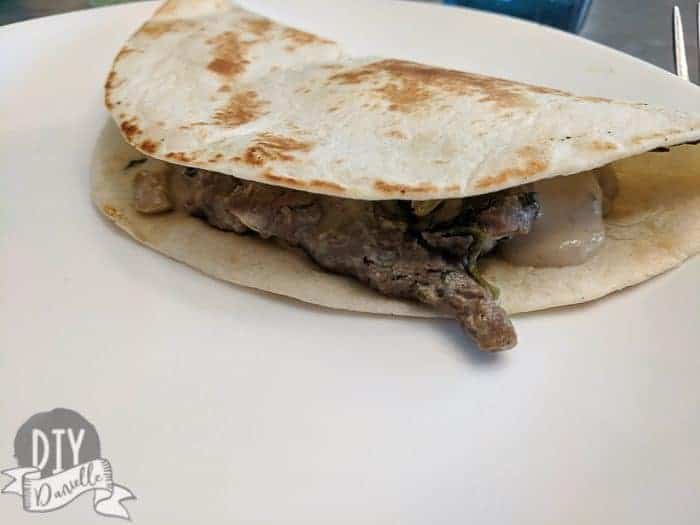 The photo at the beginning of this post was the chicken batch meal. I had to change up the meal a bit because I didn't want to buy chicken thighs. Instead I cut up three raw chickens from when we raised our own chickens… the problem was that it wouldn't all fit in the instant pot so I had to cook some of it separately. Also my Instant Pot skills are horrible and I had to start dinner over a few times. Whoops!
The Balsamic was pretty strong, but it was a good meal. We added some garlic bread that the grocery store had on sale.
I love cantaloupe and prosciutto so I opted to do that instead of the avocado/honeydew.
The shake… I messed this up. Cooking under the influence of children, I added the bananas initially and didn't give the oats long enough to break down. This made for VERY chunky texture to the shake and we didn't like it. I want to try this again the correct way though, and possibly add ice because I was wishing it was a bit colder.
As for the Turkey Cranberry Gouda Wrap, it was good. I think it could have used some type of dressing, but a lot of dressings are off limits to me because most have egg in them. I also should have used more meat in each roll.
Overall I wasn't blown away by the taste of the meals, but they were good. They tasted like we were eating healthy food.
My kids didn't love the meals, but they hate everything that isn't pizza or mac n cheese so I didn't really expect much.
The Weekly Process
The weekly process looks pretty much the same as the original setup, just quicker. You hop over to the app or the website and it will generate your meals for the week. You can swap meals out that don't appeal to you. There are enough choices but not an overwhelming amount.
Next week's meals include slow cooker French dip sandwiches, ham brie and basil sandwiches, quick pork lo mein, and chocolate covered strawberries. I think these will all be a win for my husband and me.
Instacart Delivery
I didn't get delivery this week. This is something I DEFINITELY want to setup.
Instead, I opened the Platejoy shopping list on the website and used my phone app for the local grocery store. This allowed me to quickly order what I needed for pickup.
PlateJoy Code
I'm going to give you two different coupon code options for Platejoy if you want to give it a try…
Pick what works best for you!
Please share and pin this post! If you make this project, share it in our Stuff Mama Makes Facebook Group. We have regular giveaways for gift cards to craft stores. You can also tag me on Instagram @doityourselfdanielle; I love seeing everything you make!