Blog Transfer #3: Car Seat Piddle Pad
Post may contain affiliate links. Using these links helps support my blog. Thank you!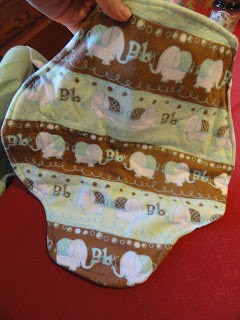 I have a fussy baby… I love him and he's perfect, but he doesn't sleep during the day. Which makes him fussy. The good thing is that he's an AWESOME sleeper at night. Needless to say, I haven't had much time with him out of my arms since he was born at the end of September, but Daddy B helps out a lot when I have a new project. I haven't had time to update anything on the computer though. Hopefully things will get easier here sometime!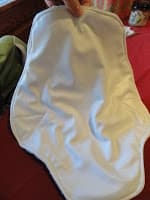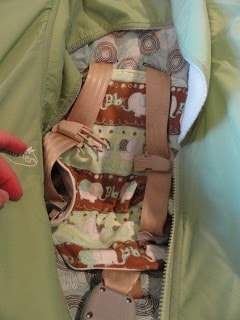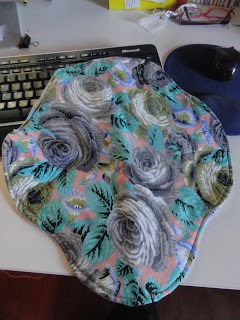 This month, I made a pad for Baby G's carseat, and two more for friends. I used Pul in them to help keep any accidents from leaking through to the carseat cover. I've had some issues with the cloth diapers leaking (due to user error in the washing process- think I finally figured it out!) so I got tired of washing the carseat cover… what a PITA! It's a project to get that cover on and off, and it can't be dried in the dryer. So yeah- this pad covers all the vital areas of the carseat and it can be thrown in the washer and dryer if it gets wet.
For my pad, I put the Pul on the back of the pad… I made two more for friends and hid the Pul behind a layer of flannel. So my cover (the green one) is: flannel, four layers of tshirt fabric for absorbency, and Pul. The flower pad is: cotton, three layers of tshirt, Pul, and flannel.
I used this Sewplicity tutorial and just used Pul instead of fleece.
Are you considering switching to cloth products? Do you love cloth diapering? Curious about cloth products such as cloth menstrual pads, wet bags, and unpaper towels? I just released a fantastic book that is ALL about using, laundering, and sewing reusable cloth products. It even includes instructions on this project! Pick up "The Complete Guide to Using, Laundering, and Sewing Reusable Cloth" today and get started saving money and the environment!