The Create Organized phone apps offer photo storage as a monthly plan so your photos are available across devices, whether they be Android or IOS. These phone apps currently include: Sew Organized. Other apps will be coming soon.
Cost for the Create Organized Subscription Plans
The cost for the subscription plan is around $1 USD/month. This includes up to 1 GB of photo storage (approximately 10,000 images).
How to Subscribe
Subscribing to Sew Organized is easy. Click on the three bars in the top left to open your menu. Scroll down and click 'show more.'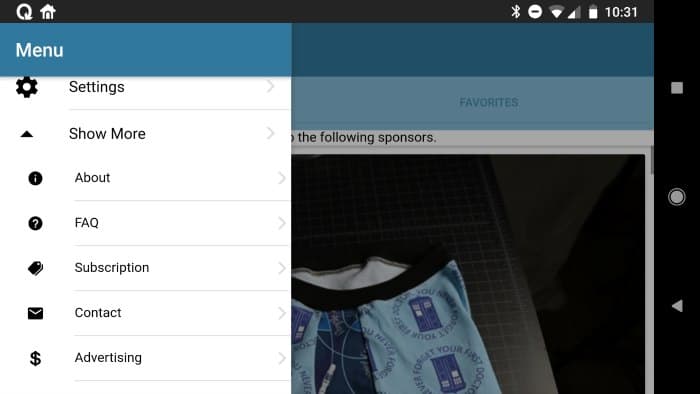 Click "Subscription" on the menu bar and it will take you to this page. Click subscribe and follow the instructions to complete your purchase. Each store is a little different.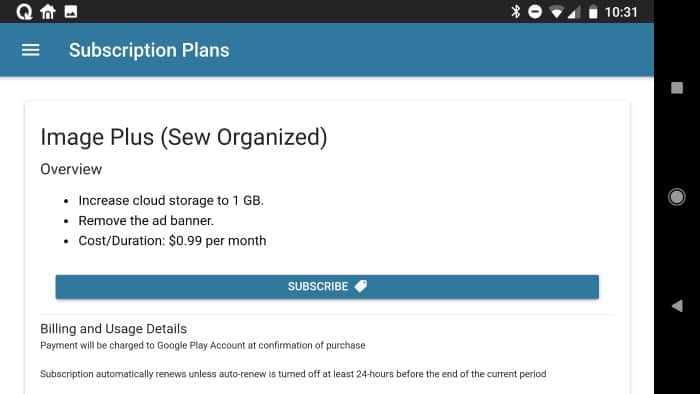 Once you complete the subscription process through the iTunes or Android store, you should restart your app (close it out completely, don't just minimize it). Once you restart, it should be updated to allow for more photos and to stop the ads, but it could take a few minutes to update.
Thanks for subscribing!
How to Cancel Your Subscription on iTunes App Store
The following link will walk you through how to cancel your subscription on the iTunes App Store: iTunes Subscription Cancellation
How to Cancel Your Subscription on Android Play Store
The following link will walk you through how to cancel your subscription on the Google Play Store: Android Subscription Cancellation
Cancellation Policy
Cloud storage for images is not free to us. The subscription plan cost helps to cover the cost of this storage.
Upon cancellation of a subscription, Sew Organized reserves the right to remove photos that exceed the free plan quota.
Sew Organized may, but does not guarantee, a grace period between cancellation/expiration of the plan and the removal of any images. Sew Organized may contact the user by email registered to the Sew Organized account to inform you that your subscription has ended, and may offer options on how to deal with images exceeding the free plan quota.