My big project for Daddy B for Father's Day is to get some cute photos of Baby G and print them for his desk at work. I'll be making something similar for the Grandpa's too… gotta give Baby G's biggest fans a picture too!
Chalkboard Sign
Okay so the first thing I wanted to do these photos is a chalkboard sign. I love going on Pinterest and finding good photos to imitate or steal ideas from. I've been loving all the photos that use chalkboard signs with a special note on them. I was going to just buy a wooden framed chalkboard sign like all the other photos use, but I figured I should probably make use of some of the extra chalkboard cloth that I have left from my tablecloth runner that I made for Mother's Day. I'm not going to get into the steps for making a sign because it's pretty much the same as the tablecloth runner, except smaller.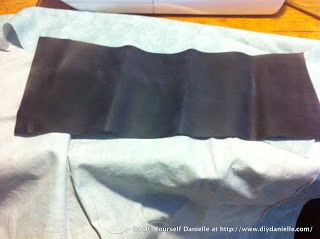 My material laid out.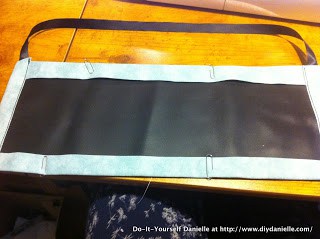 Measured and folded over the material that I'm using for the back. Used paperclips to hold it in place.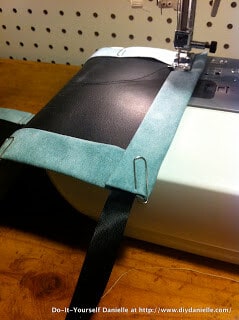 I finished it by sewing up each short side on the inside, then sewing the two longer sides. I finished it by sewing along the far edge, all the way around. I added ribbon to hold up the sign at first… just added it to the two short ends and sewed over it when I was sewing the outside edges.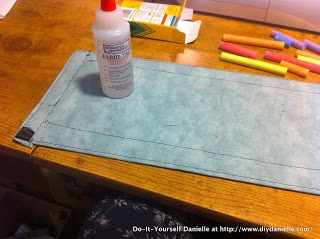 I ended up snipping the ribbon off though and just using fabric glue to glue it down on the back. I could have seam ripped, but I was lazy. If you decide you want the ribbon to hold the sign, make sure you add something inside the sign to make the sign solid… I didn't do anything that complex because I didn't want to have to go to the store (sooo lazy) and I think this sign will work fine as is.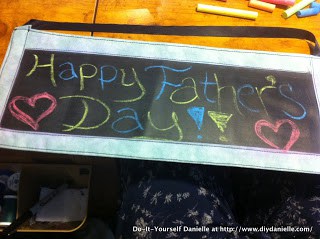 This is my final product. I think I'll be able to drape it across Baby G's lap (he'll probably eat it) while taking pictures. This was before I took the ribbon off, of course.
I have a ton of other ideas for Father's Day too… which is always difficult for me because I want to do EVERYTHING. I never leave myself a lot of options for the next holiday when I give gifts. Oh well, I'm creative… I will think of something. Look forward to another one or two Father's Day posts!