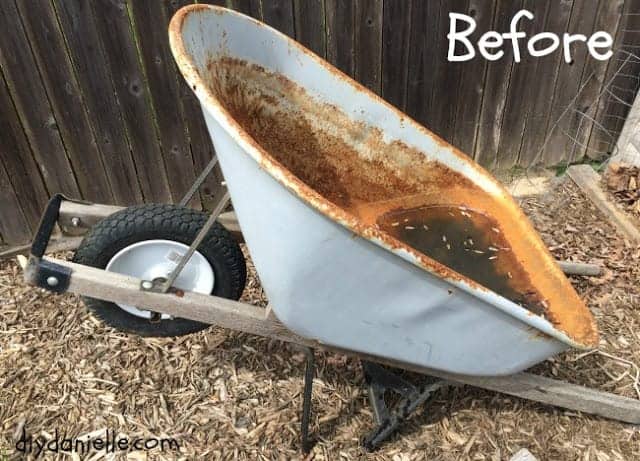 How to upcycle a wheelbarrow into a planter for your garden. This is SO EASY.
This post may contain affiliate links. Using these links helps support my blog. Thank you!
We had an old wheelbarrow that has seen better days. Our biggest issue was that the wheel was broken and didn't appear to be fixable. We'd made some attempts. It sort of works, but not to support any great weight. The second issue was that the handles are TERRIBLE at splintering into your hands. I can't tell you how many splinters I've had to pull out of my fingers because of this thing. Meh. So we decided to turn it into a planter.
We tried it last year as a planter but didn't put enough drainage holes. It was a massive fail. But this year I added more holes, some spray paint and vinyl, and it looks GREAT. Better yet, it's growing lettuce like crazy. Woohoo! The best part is that it's mobile and we've had issues with lettuce bolting if it gets really hot and it's in too sunny a spot. Having it in the wheelbarrow allows us the option to move it if needed to a slightly cooler/shadier spot.
Supplies
Supplies listed below may include affiliate links to the products.
Tutorial
Drill holes in the bottom for drainage.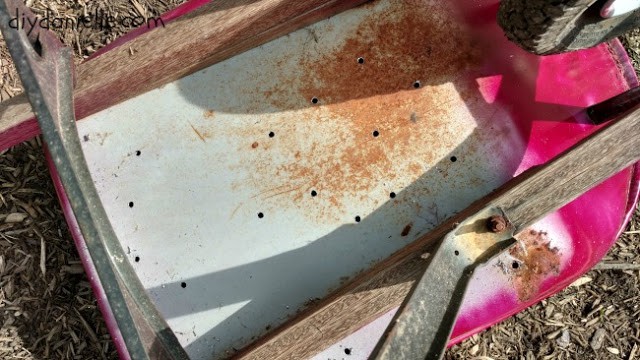 Paint. I used Rustoleum 2x Spray Paint. I wasn't fussy about how good a job I did honestly.
I added a couple of decals that I made with the Silhouette Cameo and 651 Vinyl (permanent).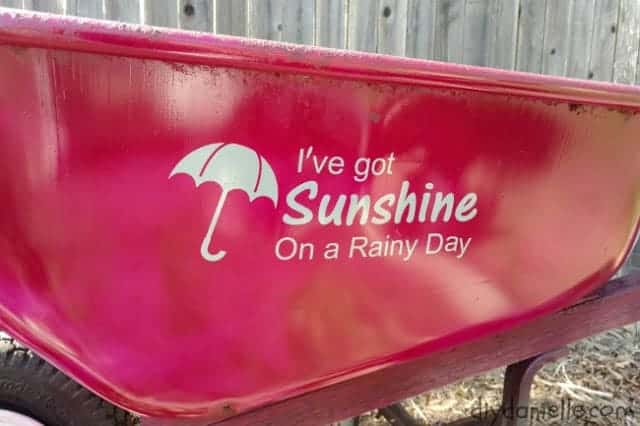 Next I just filled with soil and compost. Then I planted seeds. I kept the wheelbarrow watered, just like my other plants and the lettuce is growing GREAT so far.
Note: I was a little concerned about the rust being an issue for edible plants, but a little web research and it *seems* to be okay (as long as the wheelbarrow doesn't have lead or such). If you're concerned, you could always line the wheelbarrow or just use it for non edible plants.
Love it? Pin it!
Thanks for taking the time to read this post! I really appreciate the time you've taken. Please share, like, and pin my post if you enjoyed it. Follow me on social media and subscribe to my email list to keep up to date on all of my latest projects!

Disclosure of Material Connection: Some of the links in the post above are "affiliate links." This means if you click on the link and purchase the item, I will receive an affiliate commission. Regardless, I only recommend products or services I use personally and believe will add value to my readers. I am disclosing this in accordance with the Federal Trade Commission's 16 CFR, Part 255: "Guides Concerning the Use of Endorsements and Testimonials in Advertising."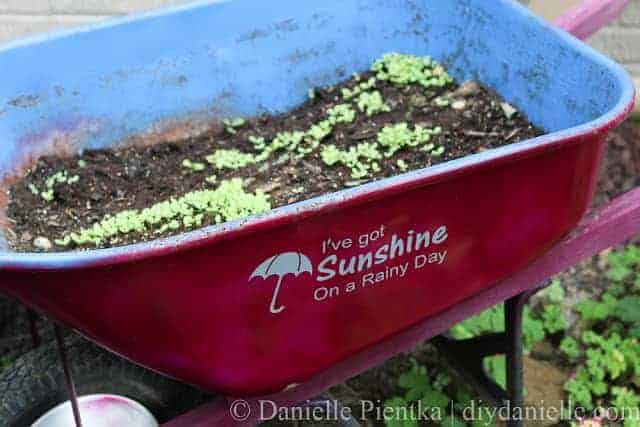 Yield:

1 Wheelbarrow Planter
How To Make A DIY Wheelbarrow Planter
Repurpose an old wheelbarrow into a DIY planter. It's such an easy project.
Materials
Drill
An old wheelbarrow
Spray paint that will work on metal
Soil, seeds
Tools
Silhouette Cameo and 651 Vinyl (optional)
Instructions
Drill holes for drainage.
Paint.
Optional - add vinyl decals.
Fill with soil and compost.
Plant seeds.
Recommended Products
As an Amazon Associate and member of other affiliate programs, I earn from qualifying purchases.