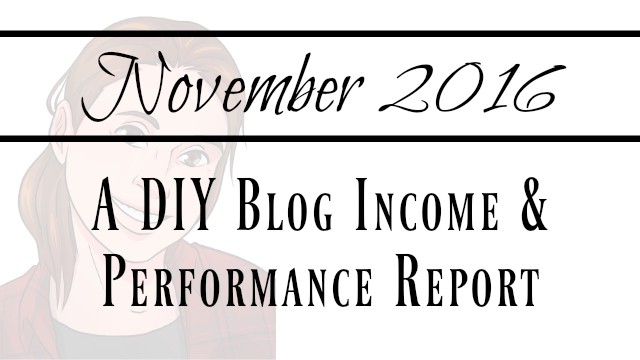 November 2016 Blog Income and Performance Report for a DIY/Green Blog.
This post may contain affiliate links. Using these links helps support my blog. Thank you!
Womp womp…. woe is me, but the semi viral traffic from last month didn't last. And I had even lower stats than I did from August. So discouraging. But let's look at numbers. I'm trying to keep my eyes open to the fact that I still have over 18k people visit my blog in November… that's wayyyyy more people than I have friends, haha. #perspective
Performance
Pageviews: 27,917 (-33,215 from last month)
Sessions: 21,076 (-28,806 from last month)
Unique Visitors: 18,444 (-27,037)

Email Subscribers: +15
Twitter: +139
Facebook: +108
Pinterest: +1,397
Instagram: +82
YouTube: +239
Alexa Sites Linked on: ? Alexa won't give me this number for some reason.
Alexa USA (lower is better): 93,297 (this went up)
Income
Sponsored Posts: $125.00

MediaVine: $93.17

PadSquad (which overlaps with MV right now until December when my contract is up): $62.35

Affiliate Window: $3.86

Amazon Associates: $141.79

Blue Apron: $135

YouTube Earnings: $27.19

Book Sales: I have no idea how this translates into money because the Kindle/Amazon accounting info is reallllllly hard to figure out. But this is what I sold.

Total Earnings*: $588.36

*Excluding books because I have no clue.
Expenses
These are estimates because many of the things that I pay for are a yearly fee, but I think I got them all.
Link Party Services from a VA: $40
TailWind
(Pinterest scheduler): $8.74 ($104.88/year)
BoardBooster
(Pinterest scheduler): $10
Mad Mimi (email list): $12
Domain Name: $1 ($12/year)
Inlinkz
(for link parties): $2.99
Post Planner (Facebook scheduler): $5 ($60/year)
Advertising: $10 for listing in change-diapers.com for my book


Total Expenses: $89.73
Total Earnings after Expenses: $498.63
What Worked and What Didn't This Month
What Worked

:

The large YouTube growth is abnormal. I've been growing at a fairly slow rate. This tells me that while my gift series hasn't substantially improved my blog traffic, it is likely helping my YouTube channel grow. Oh and I get paid for YouTube views so my income from that is higher.

My Facebook popup is still giving me a fairly good return for new followers- at the expense of email subscribers. I had 632 page views from Facebook the entire month, but that's more than I was getting in the past. I think it has doubled. I'm not sure if this is due to the increase in followers, due to my reduced posting schedule on Facebook, or just remnants from the post that was semi viral on Facebook (most likely), but it's nice to see an increase.
New lighting from 2 months ago is really making a huge difference for the quality of some of my photos and videos.
The other interesting stat from the month was my average time on site. This reports how long, on average, people stay on your site. I went from :34 from last month (May through September ranged from .32-.47) to 1:03 this month. Prior to May, I had higher times (1:00+) so I'm curious where the change came from. I hope it means that people are doing the DIY projects!
I've had some positive feedback on my book (yay!) and some of my DIY projects as well. This makes me super happy. Honestly… this is why I started blogging. I'd like to earn some money because supplies cost money and I spend so much time on my blog, but I LOVE hearing from people who made stuff from my tutorials. It makes me very, very happy.
What Didn't:
My attitude. Honestly, this month has been rough. As the days get darker, I usually struggle with some depression and anxiety. I combat this with a lot of yoga, extra sleep, and exercise… which eats up time. I would say this doesn't hurt my overall blog performance… a lot of my traffic comes from the same old posts. What it does hurt is my potential for growth. Lack of motivation and time means fewer blog posts, less promoting, etc. I would say that I can anticipate this problem every year so in the future I may want to plan ahead. Get posts scheduled for November and December, schedule social media in advance, etc. I'd rather just migrate south with the birds for the winter, but my husband claims I'm being unreasonable. Haha.
I'm still not 100% I prefer the Facebook popup to email. I'm not 100% that my return is high enough with that. The maths are confusing me though so I'm just going to hold out on changing it back to an email subscription popup until I get more comfortably into the 2000 subscribers+ zone. I'm SO close.
I need to work on my Pinterest images. I have decided I'm not fond of my Pinterest collages. I'm not 100% what I don't like about them, but I am going to figure it out and fix it.
Plans for the Future:
Go back through old posts to update them to get better SEO. Alternatively, I might republish some old posts.
I need more products to sell. I have been working on some ideas for more eBooks and I really want to get those completed. Blog income purely from advertising and sponsored posts isn't really my preference…. and it's very reliant on blog traffic which can fluctuate through the year.
I've been plugging away at my organizing series for January. It's getting there. I hope I'll have it all scheduled out by the end of December.
Love it? Pin it!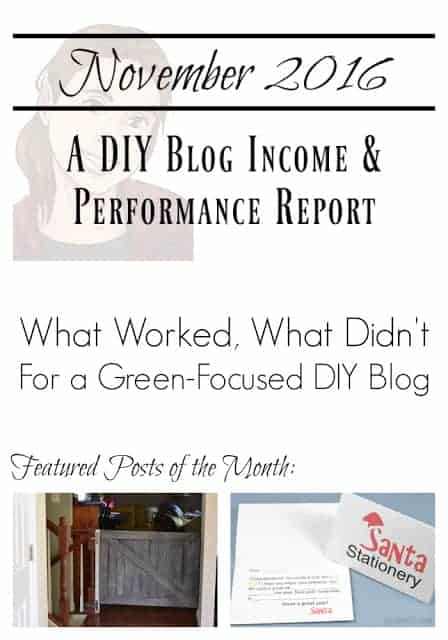 Thanks for taking the time to read this post! I really appreciate the time you've taken. Please share, like, and pin my post if you enjoyed it. Follow me on social media and subscribe to my email list to keep up to date on all of my latest projects!

Disclosure of Material Connection: Some of the links in the post above are "affiliate links." This means if you click on the link and purchase the item, I will receive an affiliate commission. Regardless, I only recommend products or services I use personally and believe will add value to my readers. I am disclosing this in accordance with the Federal Trade Commission's 16 CFR, Part 255: "Guides Concerning the Use of Endorsements and Testimonials in Advertising."