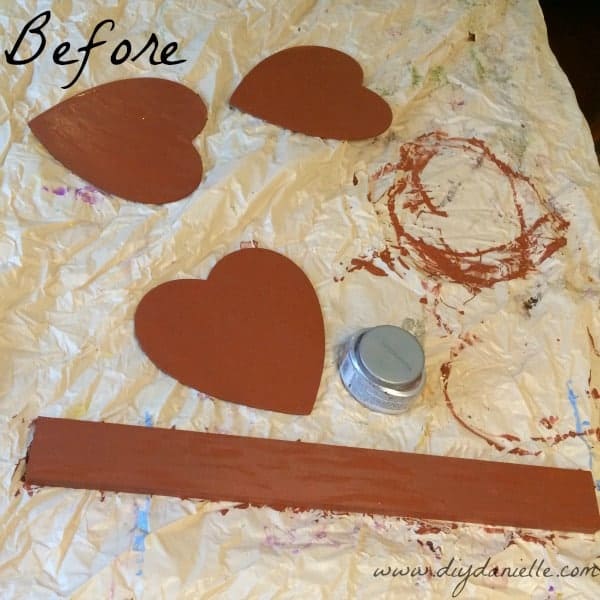 This is a Valentine's Day decoration for the front door that is made with lace, paint, and some wooden hearts.

Full disclosure: I'm not sure I love this project. I know that's not a great sales pitch, but I LOVED it until the glue dried yellow and made my lace look like it had been urinated on. I usually buy clear Gorilla Glue, but I picked up the wrong one and wasn't thinking when I used it. Needless to say, you'll get to see my attempts at saving this project which will hopefully be entertaining.
The worst part of this project was that I had left my gorilla glue on the counter and my puppy grabbed it and ATE the container. Fortunately he didn't eat much of the glue as we caught him chewing the container as the glue spilled all over his paws. A few weeks later and the dried glue is finally gone from his paws… FYI this glue is impossible to wash off.
Supplies
Supplies listed below may include affiliate links to the products.
*Clear* Gorilla glue… unless you love the urine stained look, in which case use the standard color that dries orange-yellow. You could probably use a glue gun too!
Scrap Wood
Paint markers or lettering
Lace
Paint
Tutorial
Paint your hearts and your wood. When you chose a paint, I've found certain paints are easier to write on than others. I used regular paint and distressed it for my first version (white lace) and writing on it was fairly easy- although the poly I added didn't help. When I repainted it with spray paint that is multipurpose (for plastic too), it was VERY hard to write on. Lesson learned. Again. I can't remember which one, but I definitely made this mistake on another project too.
Glue them to the piece of wood.
Use glue to attach lace around the edges of the hearts. I used binder clips to hold the lace in place until the glue dried.
I printed off my heart candy sayings on my computer, then placed the words over my hearts. I used a pencil pushed down hard to draw out the lettering. Once finished, I was able to remove the paper and see where to write with my markers. This is such an easy way to make lettering- although I really want a silhouette machine someday.
Using my paint markers, I wrote out the lettering and let it dry.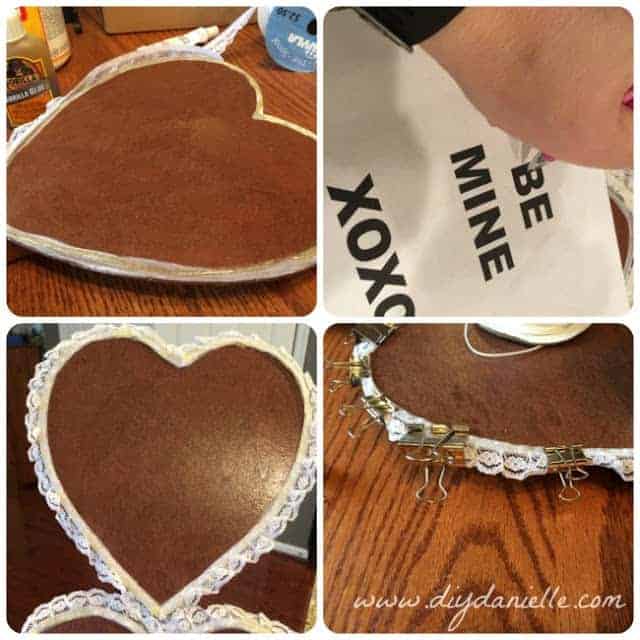 Next I decided I hated the look of the yellowing lace so I spray painted the whole thing bright red, including the lace, and redid the lettering in black. I liked the white lettering so much better. Woe is me- my Valentine's Decor is ruined. First world problem or what?!

Here's the final products… Left: Version 1, Right: Version 2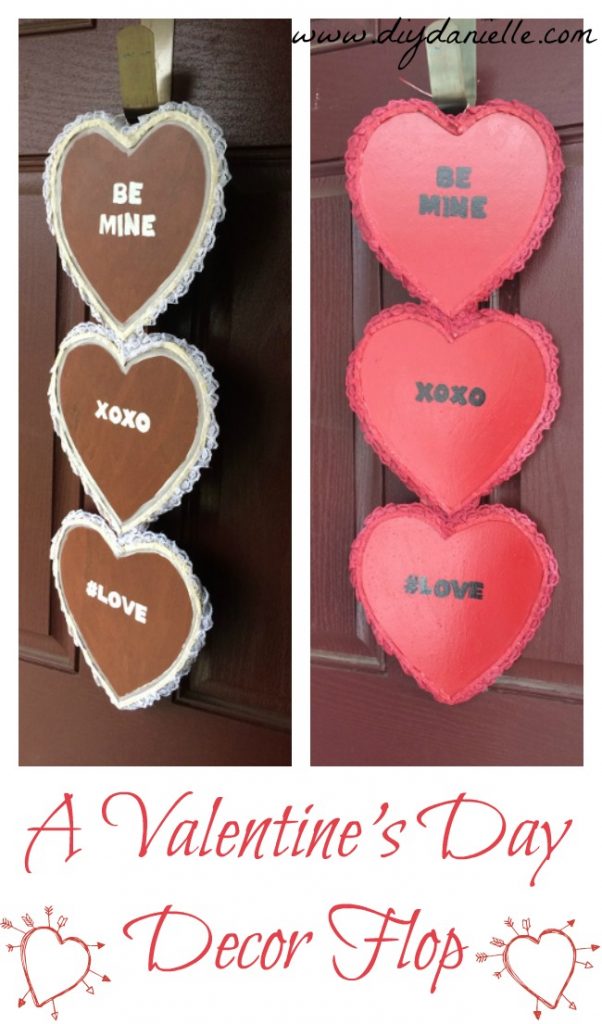 Which version do you like best?
Thanks for taking the time to read this post! I really appreciate the time you've taken. Please share, like, and pin my post if you enjoyed it. Follow me on social media and subscribe to my email list to keep up to date on all of my latest projects!

Disclosure of Material Connection: Some of the links in the post above are "affiliate links." This means if you click on the link and purchase the item, I will receive an affiliate commission. Regardless, I only recommend products or services I use personally and believe will add value to my readers. I am disclosing this in accordance with the Federal Trade Commission's 16 CFR, Part 255: "Guides Concerning the Use of Endorsements and Testimonials in Advertising."