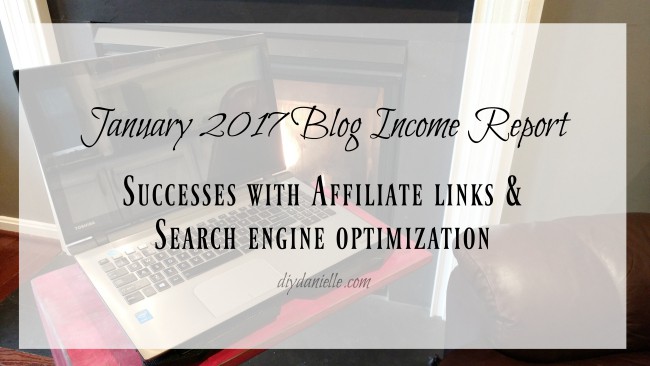 The January 2017 Blog Income and Performance Report: What Worked, What Didn't for a DIY blog hosted on Blogger/Blogspot. This post covers what makes a good affiliate link and the benefits of good SEO (search engine optimization).

This post may contain affiliate links. Using these links helps support my blog. Thank you!
My month has been… long… but fairly successful. I'd like to say this was due to hard work, but it was a lot of luck and hard work from months ago that began to pay off. That's the nice thing about blogging- if you have a good foundation, you can have an off month and still keep up traffic and income.
The original plan for the 31 day organization series this month crashed and burned. I had scheduled a lot of the posts out, but we found out I am pregnant so I'm nauseous and tired, I traveled alone to Texas with my kids for 8 days, and I finished off the month with a really long ER trip for chest pain. I still posted 20 of the 31 projects, but I'm disappointed that I didn't finish. I'll continue to finish this series as I'm able.
This January, affiliate earnings provided the most income. I'm going to talk a bit more later about how I was successful with an affiliate link this month- and it has a LOT to do with SEO.
Performance
Pageviews: 51,190 (+4,640 from last month)
Sessions: 41,263 (+4,121 from last month)
Unique Visitors: 37,942 (+3,715)

Email Subscribers: 873 (+62)
Twitter: 3,969 (+32)
Facebook: 2,159 (+38)
Pinterest: 24,489 (+2,432)
Instagram: 1,846 (+14)
YouTube: 670 (+104)
Alexa Sites Linked on: 225
Alexa USA (lower is better): 94,338
Income
Sponsored Posts: $0
MediaVine: $268.62
Affiliate Window: $2.60
Amazon Associates: $52.99
Impact Radius (Blue Apron, etc): $1,200
YouTube Earnings: $24.24

Book Sales: I have no idea how this translates into money because the Kindle/Amazon accounting info is reallllllly hard to figure out. But this is what I sold.
I also participated in the Back to Basics Living Bundle this year. More on that later, but I'll have an author payout for that. Unfortunately, I don't have any information on how much that will be at this time.
Total Earnings*: $1,548.45
*Excluding books because I have no clue.
Expenses
I think I got them all. Been working to cut expenses where possible. If I don't see a direct benefit to my sanity, my traffic, or my time management, I tend to cut the service. I also am on Blogger/Blogspot so I have no hosting fees. I pay for my domain name which is a yearly fee. I use Inlinkz as a project manager for my two series.

TailWind (Pinterest scheduler): $8.74 ($104.88/year)
BoardBooster (Pinterest scheduler): $5
Mad Mimi (email list): $12
Domain Name: $1 ($12/year)
Inlinkz (for link parties): $2.99
Post Planner (Facebook scheduler): $5 ($60/year)
Advertising: $100
Microsoft Suite: $8.25 ($99/year)
Equipment: $28.43
Total Expenses: $171.41
Total Earnings after Expenses: $1,377.04
What Worked and What Didn't This Month
What Worked: I was directly featured on Hometalk again this month which was a nice boost to traffic. This helps with my Mediavine earnings (which are based on traffic).
Google has changed it rules about pop ups on mobile sites so I removed my pop up for subscribers to my Facebook page completely. This meant less Facebook subscribers unfortunately, but I am hoping the user experience is pleasant.
Quite accidentally, I made a ton of money off an affiliate link for Blue Apron this month via my post, "Making the Most of Your Blue Apron Free Trial." I'd noticed the link was performing better and better each month, but I wasn't really looking at WHY. When I checked my earnings for it a week into the month, I was shocked. Where are these folks coming from?! The post wasn't one of my top 5 performing for traffic. It didn't appear to have a good foothold for Pinterest or Facebook.
So I did a bit of digging and discovered that my post ranked really well for SEO. It was on the first or second page when people were looking for Blue Apron codes. When the post went live in August, it did okay. Then it continued to increased exponentially each month as my SEO improved and the post rose in the search engine listings. How cool is that?! Plus I'm just happy that post is getting seen because I thought the information was good.
Now let's talk SEO for a moment. Search engine optimization is a lot more than getting a green light on Yoast. I'm on Blogger/Blogspot so I don't have access to a plugin and I think this has been a good thing for my blog. I have continued to work on improving my understanding of SEO and implementation of SEO skills. As a result, a good portion of my traffic comes from Google search.
One of the reasons my posts tend to have good SEO is that I started creating websites back before it was cool. In college, I took classes on xHTML and CSS so while my coding skills have unfortunately faded over time, a lot of the habits are still there. I was taught to add title text and alt text to my images so people who were vision impaired could "view" my images, for example… but now that impacts how high you rank in Google, as well as impacting the search description for the post on Pinterest. So it was great that I have been getting some of that SEO boost all along, rather than needing to go back to update 600 posts.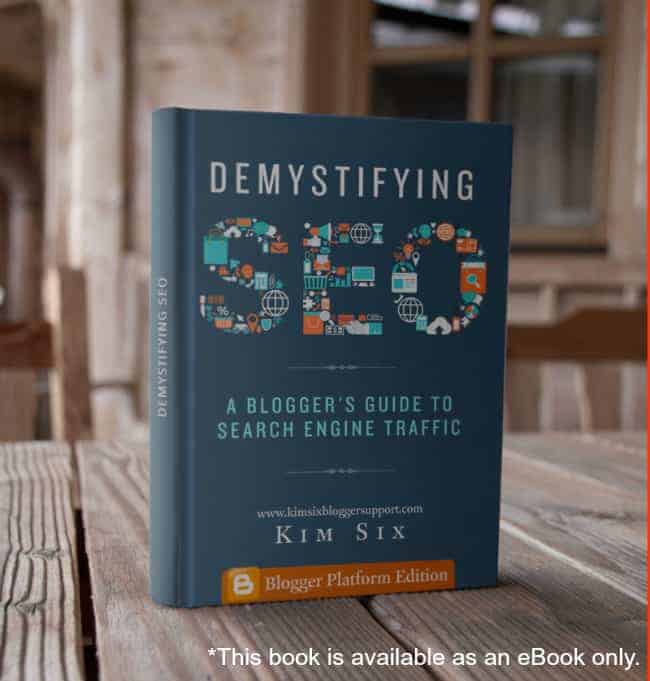 I also like to read advice from other bloggers, sift through info, and use what works for me. I've been in a blogging group with Kim Six for a couple of years and she's doled out a lot of great SEO tips over time. She put alllll of her advice together in a book, Demystifying SEO: A Blogger's Guide to Search Engine Traffic. It's geared towards Blogger/Blogspot bloggers, but it's definitely relevant to bloggers on other hosts as well. So if you want to know more about SEO, I recommend checking it out.

What makes a good affiliate post? This is the first affiliate post that's done really well for me. I didn't write the post to make money. I only wrote the post because I had started Blue Apron, loved it, and they were giving me free meals to give to friends. My friends wanted to know how to use it so once I got tired of telling everyone the same thing, I decided to write a post about how to make the most out of the 3 free meals. This post could have never happened. Hilarious, right?
Of course, I try to monetize my posts. If I make a DIY project, I include a supply list with the affiliate links to my products. For other posts, I look to see if they have affiliate links to services, etc.
For this post, I checked and Blue Apron had affiliate links and those links offered people 3 free meals! It was a really easy sell. Also I love Blue Apron so I felt I could authentically promote it. I also had my own photos to use… I'm really keen on using all of my own photos, even when they aren't perfect.
So here are three key elements that I think made my affiliate post work this time:
Authenticity: Do YOU use and love the product? Don't try to sell something you hate. I get Blue Apron 2-3x a month. I'm always posting pictures of it on my Instagram channel.I've seen people promote blog hosts that they hate and left themselves. It's really sad to see people promoting something that's terrible. While you can probably get away with it and make money off it, I find it hard to promote something I hate. I'm a terrible liar. I also want people to return to my blog because they trust me.
Appropriate Content: Does the content fit with your blog? I wouldn't promote disposable diapers on my blog, seeing a lot of my content is focused on reusable products. I have nothing against them, but it doesn't fit. I sell a lot of the sewing pattern that I used on my top performing post, the Ryder Vest costume that I made for my son. It generates the most traffic and income during Halloween time, of course.
Useful Content: Can you make the information useful to someone clicking over to your post? There are plenty of spam sites to get coupon codes. There are plenty of blog posts that say yadayada I love (affiliate company here), use my link. If people click to your post and it's not helping them, they'll click away quicker and that's not good for SEO.
Once you have all of those things, you work on good SEO, promoting your post, etc. Always make sure you include disclosures and no follow links for affiliate links.
Honestly, I believe hard work is the foundation of success, but it also takes a bit of luck. So you do everything you can for each post… then hope one takes off. I was glad this one did. I have a couple of great posts with affiliate links that didn't do well, but the same foundation was still there. There's the potential that someday they will do well. Or maybe I'll go back in a year and change a few things to see if I can improve the SEO.
But start with the foundation.
What Didn't Work:
I had a serious WTF moment when I saw my bill from Pinterest ads this month. I apparently had set a budget of $5 a day, then forgot to put an end date. Yikes. If I'd seen any decent traffic from this, I'd feel more reassured, but alas… that post really didn't hit the radar for the most traffic this month. I think my advertising skillz are seriously lacking because I have yet to hit on a way to best use any advertising money I spend.
The Blue Apron link. While it's a blessing to have the added income, particularly during a month where I wasn't blogging as much as I'd planned, I'm always going to be concerned about 77% of my income coming from one place. Diverse income streams are the key to long term success and stability for income. I want to keep the affiliate income if I can, but I also want to make sure I'm bringing in income from other sources.

The series. It brought in decent traffic, but yet again… I'm not seeing the returns on a series that others report. I had the same issue with my September DIY Gift Series. My friends assure me the long term traffic will be worth it so we'll see what happens! I did add more text to these posts which should help with SEO and they were a mix of photo and video posts. Video is a lot more time consuming to edit and such so this helped reduce how much time I spent blogging.

Plans for the Future:
I need to get a grip on advertising and how to be more successful at it.
In January I applied for several opportunities for sponsored posts and even an ambassadorship program. I'm hoping to get selected for some/all of them. They are products I feel are authentic to my website and I have some great ideas for relevant posts. They'll also help diversify my income streams.
Books. I am stilllll slowly plugging away at a couple of eBooks about sewing projects.
I want to reinvest some of the money earned and purchase a new camera that's more video friendly. I just need to hit the "buy" button. I hate spending money.
I have an ad for my book on my blog posts. I'm removing it. It's not working very well so I'm going to replace it with the link for 3 Free Blue Apron meals. If that's helpful for my income, I'll keep it.
Love it? Pin it!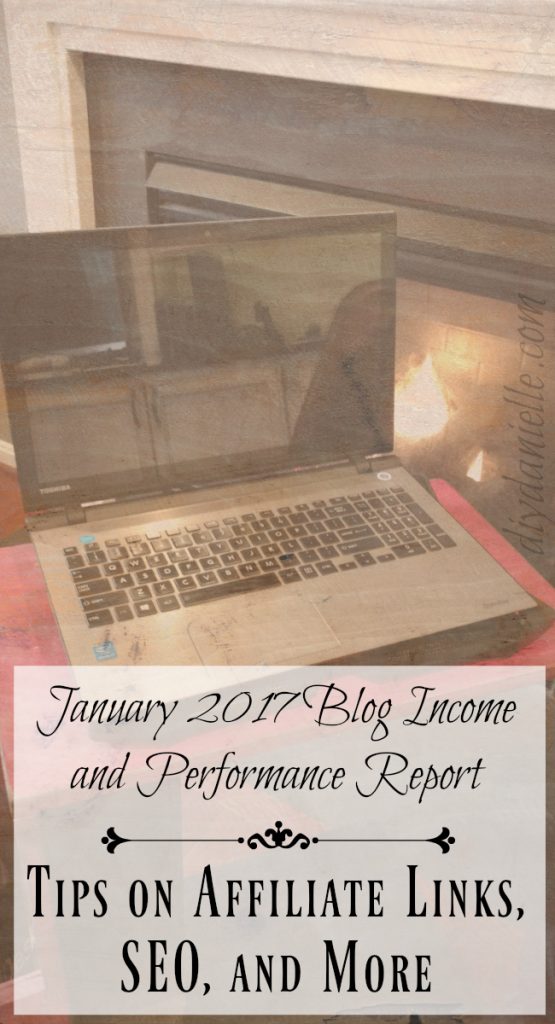 Thanks for taking the time to read this post! I really appreciate the time you've taken. Please share, like, and pin my post if you enjoyed it. Follow me on social media and subscribe to my email list to keep up to date on all of my latest projects!