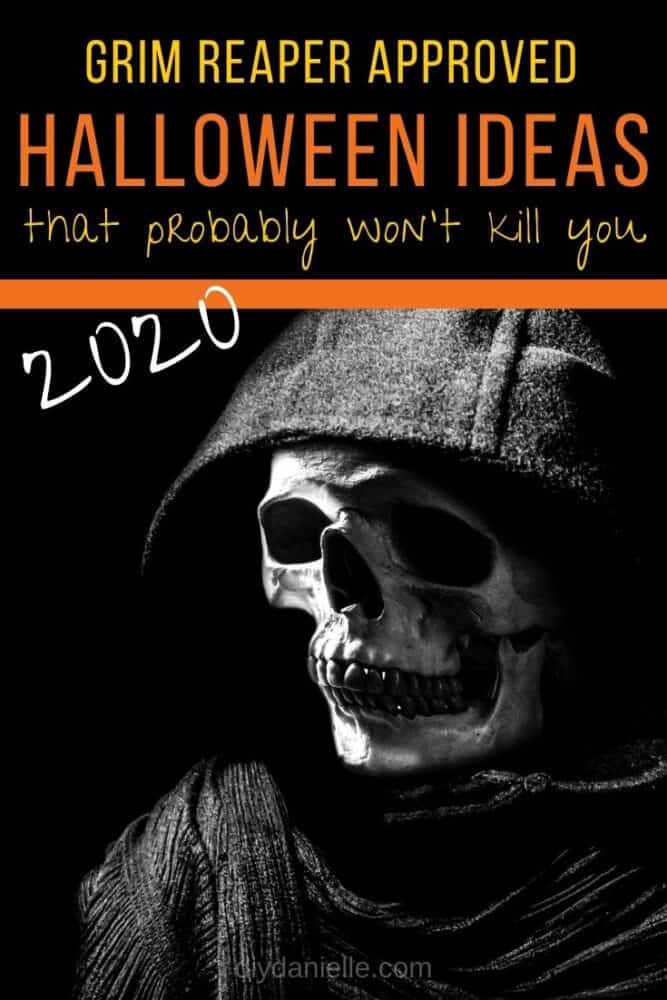 Ideas if you want to social distance this Halloween, but still not give up on the holiday fun. 2020!
This post contains affiliate links which may earn me commissions should you click through them and take certain actions. As an affiliate for Amazon and other sites, I earn from qualifying purchases. Please DIY carefully. View my full legal disclosures here.

Please read the whole post so you don't miss any important information!
I've been doing a lot of thinking about Halloween this year AND BOY AM I STRESSED OUT! None of the typical activities we do are super COVID-friendly, and we want to try to do our part to social distance.
While I feel that trick or treating can be a fairly low risk activity if certain precautions are taken, the reality is that kids aren't great at social distancing and mask wearing may not be enforced during Trick or Treat.
This is the current recommendations for Halloween safety from the CDC.
But Halloween is one of my FAVORITE HOLIDAYS! And I do NOT want to miss out on some Halloween fun for me and the kids… we're just going to try and do it safely.
Here's my thoughts on how to keep it lower risk—
Outdoors only activities
Masks incorporated into the costumes
Candy cannot be consumed immediately… the kids must wait a few days to dig into their stash so the COVID cooties can disappear.
Trusted people only would be ideal and you could always do temperature checks at the "gate."
Full Disclosure: I am not a doctor. I am just a mom trying to find that fine line between being cautious and being able to have some level of normalcy.
Costume Ideas with Masks
The main thing this year is that masks are a necessity… but if you have to wear masks, why not make them a part of the costume?
Here are some costumes that naturally have masks:
Ninja
Doctor
Nurse
Alien
Astronaut
But don't worry… if your kiddo wants to be something else, you can still get creative! If your child wants to dress up like their favorite animals, add animal faces to masks using heat transfer vinyl or embroidery.
And considering that MOST humans are wearing masks now, around the world, you can simply just wear a mask with the costume. Police officers? Wear masks. School teachers? Masks. Librarians? Masks.
Make sure to check out all of these Halloween costume ideas on my blog:
Halloween Event and Decor Ideas
I was reading about a drive through haunted house in Tokyo, but it looks like there's some drive through Halloween events in the USA too!
Want something smaller scale, but don't want to get too close to other people? Consider going ALL IN for Halloween with a spooky yard! Kinda like Christmas, but more fun! Home Depot has a ton of amazing Halloween decor items, including easy blow up items.
Everyone can walk through, haunted "house" style (haunted yard?) and stay social distanced. Here's some fun Halloween yard decor ideas…
PIRATES! This ship is AMAZING. I LOVE IT.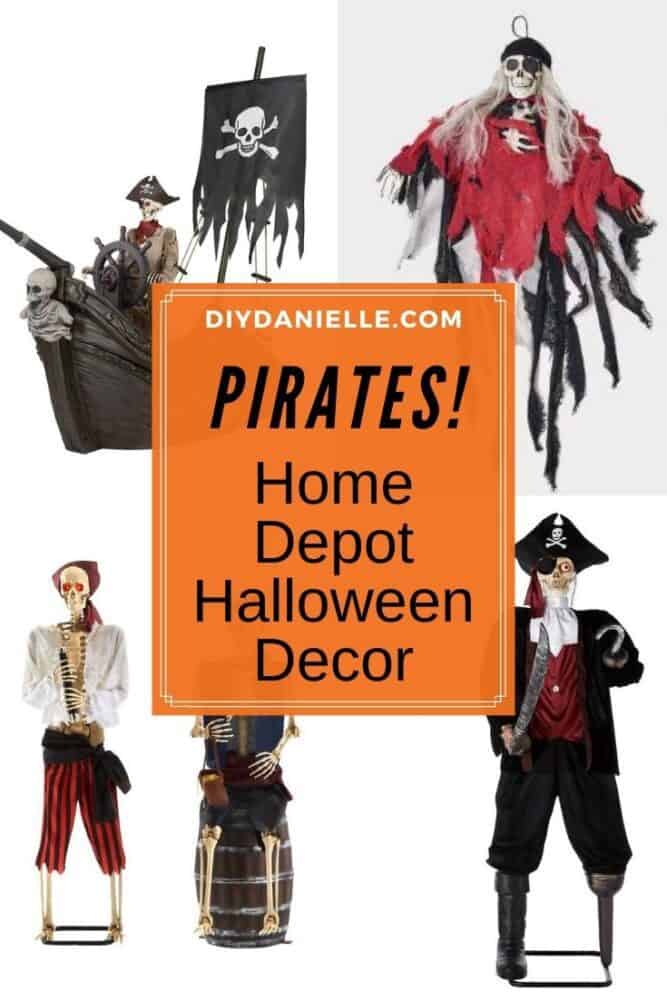 Want to go traditional, scare their butt's off? Here's some amazing options… reapers, graves, a hearse… that hearse! And a lot of these are animated. SO MUCH FUN!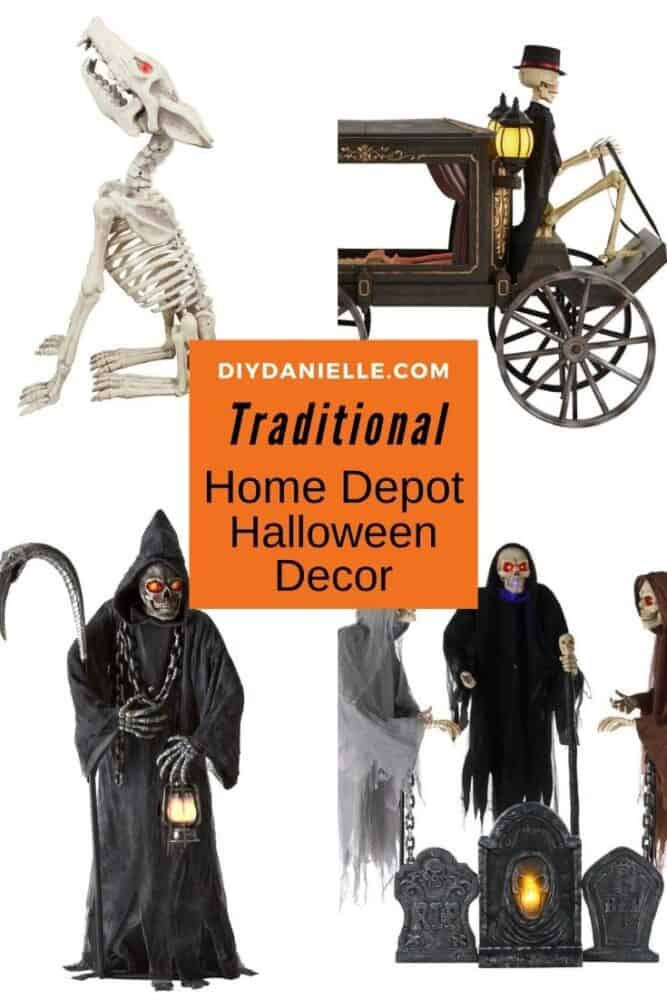 These ones are more family friendly with cartoon-ish like characters… more boo, less boo hoo. Haha. My toddler is PETRIFIED of Home Depot around Halloween.
The nice thing about these is that they're mostly inflatables which are easier to store for next year. Sometimes those heavier duty items are really hard to find a space for in the storage area.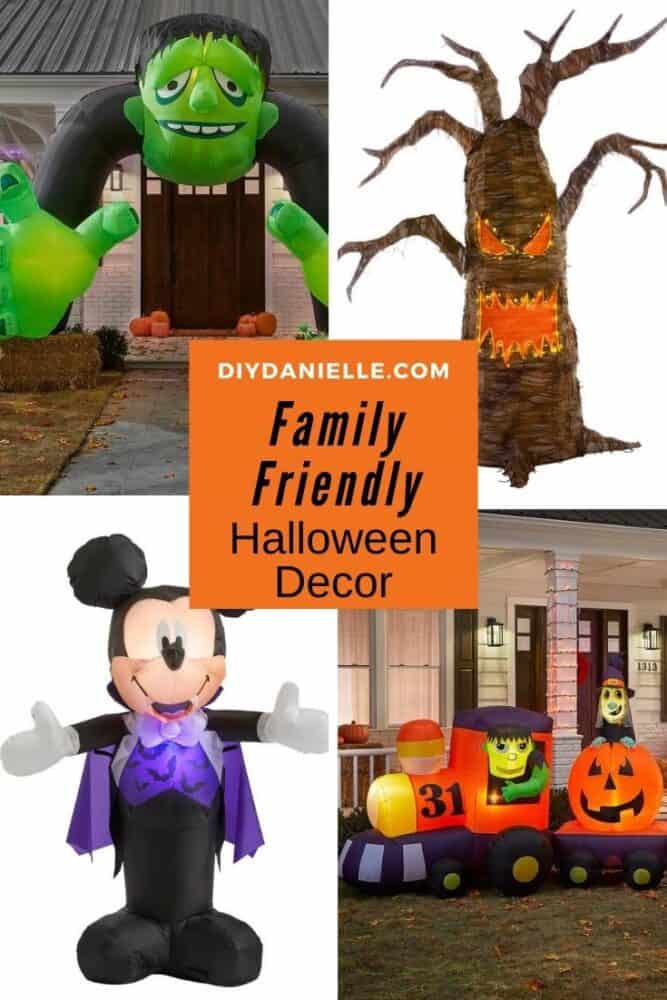 We have a pretty large yard and I would LOVE to have a drive through haunted trail (or do a spooky ride) but I just don't have that kinda money to spend. SOMEDAY! This is the stuff my dreams are made of.
If you're comfortable hanging out with a few close friends, do a Halloween pinata and lots of glow in the dark stuff! Sit outside around the fire pit, 6′ social distanced, and watch a spooky outdoor movie.
Halloween Social Distance Trick or Treat Ideas
I've seen a number of super cute ideas for trick or treating this year.
You could consider Trunk or Treating with a vetted group of friends… park in designated spaces far apart, everyone could switch cars to grab their candy at the same time so families could stay 6′ apart. Everyone could even bring their own grabbers so no hands were going into bags! Plus the kids would love that. Check temps at the entrance.
Handing out candy? You could create a tube shoot to send candy down like these folks did…
I love that these folks deliver beer… y'all 2020 has been a year, I think beer might be a perfect Halloween treat for the adults.
Trunk or Treat: Our local mom's group is doing a trunk or treat with temperatures taken at the gate. I think it would be fun to do this with a small group of people (10 families or so), park 10′ away, and have music that tells you when to switch cars. Sort of like musical chairs.
I was thinking it would be fun to use little grabber tools (like you can use to pickup garbage) to have kids 'grab' the candy, instead of putting their hands into a bucket. This would be a fun way to reduce germs AND be a neat game.
I'm sure there might be other fun ideas to have kids get candy without touching the dispensers… maybe fill balloons with some candy, put the buckets under, then have kids use darts to pop them? I don't know… if you have clever ideas for me to add, leave a comment so I can add it! Moms need to help each other out!
Last year this was my Paw Patrol Themed Trunk for Trunk or Treat.
Drive Through Trunk or Treat with open mailboxes or dispensers for treats.
I also saw the idea that people could drive by and throw candy at kids… honestly I like the idea of throwing things at my children. Haha.
Here's another idea… have one parent collect candy from all participating families 5 days ahead (or everyone can contribute $5 and the host can prepare it all). All candy can be hidden in Easter eggs or in another type of container several days in advance. Hide on the date of the event in the grass and outdoors with zones set up for each family (you could use inverted marking spray paint to mark different colored zones for each or use flagging tape)
Pinatas was another fun idea that I saw! You could probably even make smaller size pinatas so each family had their own. Instead of doing Easter eggs, every family could BAT (bring a bat lol) and take turns under their tree with their own pinata. If the pinatas were prepped several days ahead, there should be less worry about germs still being on candy.
Family Halloween parade or fashion show outdoors… every dresses up with their family and does a catwalk walk down the driveway with friends distanced and cheering for them. Throw candy at your favorite costumes. You could even do a pet parade and dress up your pets for the parade! Or dress up your vehicles and do a vehicle parade!
Mask up and hang out social distanced from each other, chat or have loud games. Decorate Halloween kites to fly near each other. Play Halloween music. Have a bonfire if it's safe to do so where you're at.
Please share and pin this post! If you make this project, share it in our Stuff Mama Makes Facebook Group in order to enter to win our monthly giveaway. You can also tag me on Instagram @doityourselfdanielle; I love seeing everything you make!