I waited until the last minute to get Baby G a costume because I couldn't seem to find anything I liked and I wanted to be creative, but didn't think I'd be able to sew a costume with the amount of attention necessary. This resulted in Sunday's last minute trip to Goodwill to find something that would work. We found this cool bowler hat, a toy gun, and a vest. We bought a white collared shirt to go under the vest and some black dress pants. Unfortunately, they didn't have all of these items in Baby G's size so I just got a slightly bigger size and altered the items to fit. I think the shirt/pants were 4T or bigger so it was a big alteration- but not as difficult as if I'd altered from adult clothing which would've required more work.
This is info on how I did the alterations, but it was a pretty lazy way to do it. If I'd been planning to make something beyond a costume, I would've put more effort in. It was last minute and just a costume for him to wear once so I wasn't concerned about it being perfect. Plus I'd had a couple of glasses of my "emergency preparedness" red wine (we're east coast and as I type we are getting a substantial amount of rain).
Altering the white shirt: I cut off the sleeves of the white shirt, flipped the white shirt inside out, laid an 18 mo shirt on top of the white shirt, and then drew with a special disappearing ink sewing pen to mark where I needed to sew/cut. When you draw with the pen, you really need to make sure that you're adding a little bit extra for seam allowance, especially for the bottom of the shirt. I did enough on the bottom so I could fold over the bottom twice to stitch.
I flipped the sleeves of the yellow shirt in so that I could draw where I would reconnect the sleeves for the white shirt.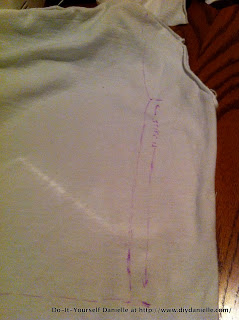 I just sewed a straight stitch where I marked on the shirt… just up the sides.
Don't sew the bottom of the shirt or the sleeve part.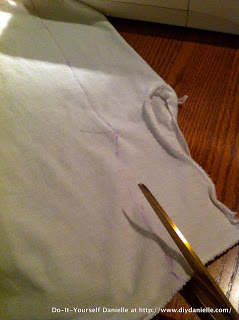 Then I cut along the purple line, except where I sewed in which case I
sewed to the outside of it so I didn't snip the stitching.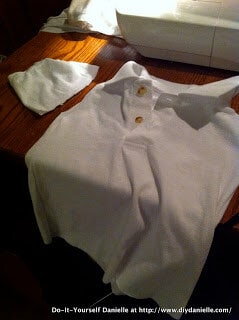 Here's the shirt now, flipped right sides out without the bottom or sleeves finished.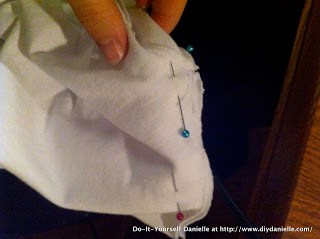 The shirt in this picture is inside out and I inserted the sleeve so that the right sides were facing together and pinned. Then I sewed around it to attach the sleeves.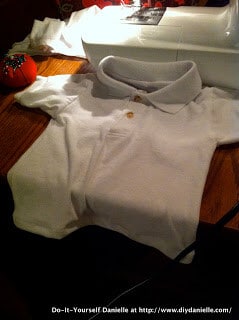 To finish it off, just fold over the edge on the bottom of the shirt and stitch.
Altering the pants: I flipped the pants inside out and laid the 18 mo pants on top of them. I positioned the pants right in the middle so I can still use the original pant's waist and zipper. I used a white sewing marker to mark where to sew. I sewed with white thread here so you can see… I just sewed where my white marks are, then I cut out around it and zig zagged the edges.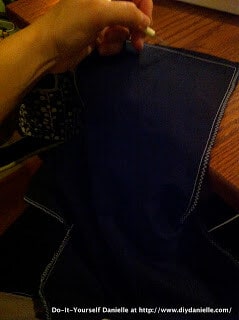 I'm an idiot who sewed the bottoms of the pant legs closed soooo I seam ripped, lol.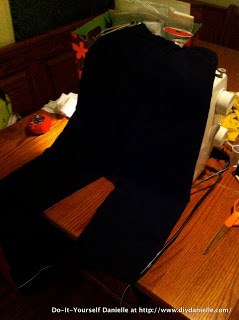 Then I just rolled up the hem of the pants and sewed a straight stitch around to finish it.
I decided not to alter the vest because it works well enough for him and I want to be able to use it when he's a bit older.
And here's some pictures of him all dressed up… he was NOT happy about the hat…
Other ideas we had included dressing him up with his bathing suit and bathing suit shirt, and making him a "surfboard" to carry with him (kid loves to carry stuff around!), and making him a karate gi with a belt. Not our best, but this is what happens when you wait until the last minute!
Next year, maybe we'll do Link! Watch the video they edited on their post, it's super cute!