I was excited to try this tutorial on cleaning the bathtub to remove the rings around the top. It just uses vinegar and dish soap, and I have plenty of both. I found that it worked, but the pictures don't show it very well. I usually use a special cleaner that works, but requires letting it sit and then you have to seriously scrub everything. It looks amazing after (better than this, honestly), but it's so much hard work. This wasn't much work, except that rinsing the soap away was pretty time intensive… that much blue dawn makes for a lot of suds. You could probably skip the obsessive compulsive rinsing, seeing that it'll probably wash away while you shower, but I let Baby G play in the tub while we're showering. He's so happy about it so I don't want him covered in dish soap so that I have to rinse him a billion times… better to just rinse the shower!
I've been struggling to rinse my shower after cleaning it so a handheld shower head would be really helpful for cleaning. I asked for this shower head below for Christmas and I'm hoping to get it because not having a removable shower head makes cleaning a pain.
Here's some pictures: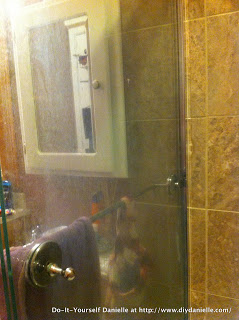 Before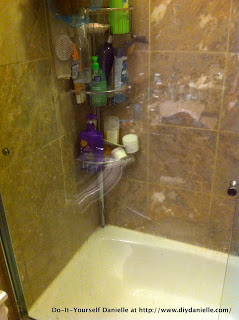 After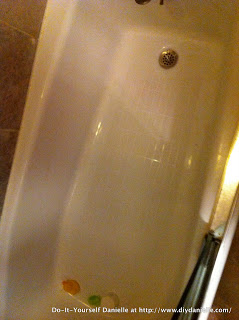 Before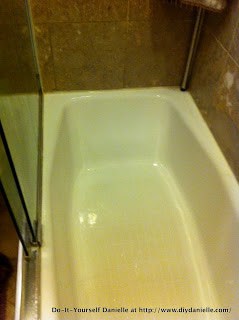 After

For toys? No.
I also used this to clean off the used ride on toy and sand/water table that we bought. A big fail, considering how much suds this made. I've finally rinsed the water table enough so that filling it with water doesn't result in a full bubble bath. Just use vinegar and save yourself some trouble. I had to scrub these quite a bit because there was a lot of dirt on them, but I love buying things used because I save money and I don't mind a little cleanup. Plus, I figure that if I buy used then I know what they'll look like in a month or two… children don't use things long enough to buy everything new.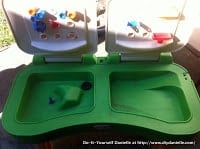 Before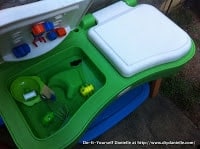 After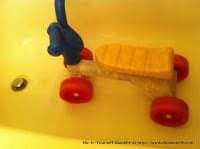 Before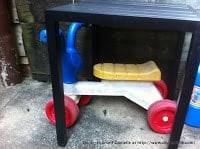 After
Disclosure of Material Connection: Some of the links in the post above are "affiliate links." This means if you click on the link and purchase the item, I will receive an affiliate commission. Regardless, I only recommend products or services I use personally and believe will add value to my readers. I am disclosing this in accordance with the Federal Trade Commission's 16 CFR, Part 255: "Guides Concerning the Use of Endorsements and Testimonials in Advertising."