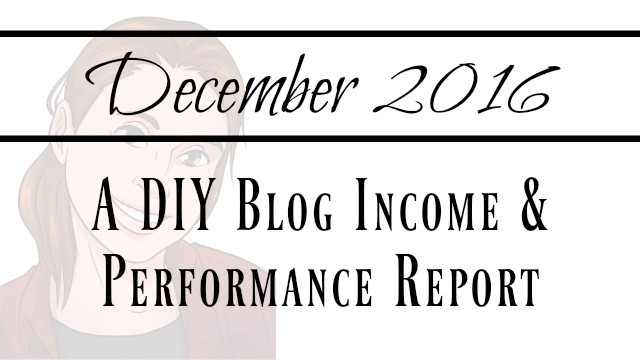 December 2016 Blog Income and Performance Report for a DIY/Green Blog.
This post may contain affiliate links. Using these links helps support my blog. Thank you!
I wanted to put this together again this month, but I couldn't cut into my January Organizing series so I decided to publish it a day early. Unless I go viral today, that shouldn't be a huge issue as I'm able to just guestimate that today's traffic will be approximately the same as yesterday's based on the current stats at 7:30am.
It was a pretty good month for traffic thanks to a feature early in the month. I keep hoping to see some more traffic on average, not just from features, but so far no luck.
Performance
Pageviews: 46,550 (+18,633 from last month)
Sessions: 37,142 (+16,276 from last month)
Unique Visitors: 34,227 (+15,783)

Email Subscribers: 811 (+61)
Twitter: 3,937 (+177)
Facebook: 2,121 (+149)
Pinterest: 22,057 (+1,209)
Instagram: 1,832 (+27)
YouTube: 566 (+89)
Alexa Sites Linked on: 258
Alexa USA (lower is better): 81,737
Income
Sponsored Posts: $490
Mediavine: $227
PadSquad (Contract ended on 12/21): $93.30
Affiliate Window: $1.68
Amazon Associates: $52.77
Blue Apron: $330 *because I'm pulling this before the end of the month, I'm not 100% this is correct.
YouTube Earnings: $45.37

Book Sales: I have no idea how this translates into money because the Kindle/Amazon accounting info is reallllllly hard to figure out. But this is what I sold.
Total Earnings*: $1,240.12
*Excluding books because I have no clue.
Expenses
These are estimates because many of the things that I pay for are a yearly fee, but I think I got them all.

Link Party Services from a VA: $40
TailWind (Pinterest scheduler): $8.74 ($104.88/year)
BoardBooster (Pinterest scheduler): $5
Mad Mimi (email list): $12
Domain Name: $1 ($12/year)
Inlinkz (for link parties): $2.99
Post Planner (Facebook scheduler): $5 ($60/year)
Advertising: $0
Microsoft Suite: $8.25 ($99/year)
Total Expenses: $82.98
Total Earnings after Expenses: $1,157.14
What Worked and What Didn't This Month
What Worked:
My Facebook page is finally over 2k followers. Woot! I will probably need to take down the pop up for mobile sites in January due to changes Google is making.
I was featured with a direct link via Hometalk early in the month which brought in additional traffic.
I've been working at writing quality sponsored posts. I want posts that people will come back to see with important info or fun projects. Not just "I love (brand), go buy this."
This meant a second opportunity with Capital One this month, and the post I wrote for Scotch-Brite about my dish cloth hanger was awesome so they posted an ad for it on Facebook. That meant extra traffic for me.
I LOVE that dish cloth hanger.
My friend Timisha at Toolbox Divas invited me to participate in a DIY Gift Series on YouTube. This brought me extra YouTube subscribers because there was a contest.
What Didn't:
For some reason, Amazon affiliate earnings were low-ish this month which isn't normal for the holiday season. But I also don't really do particularly well promoting gift guides or putting up affiliate links on my Facebook and Twitter accounts. I try not to be too annoying with ads.
I'm dropping VA services for link parties partially to lower my expenses and partially because I just don't see traffic from link parties. I am thinking I should invest that money somewhere else, but I haven't decided where. I'm trying to figure out if there's a VA service I could really use.
I may still participate in some link parties on my own… we'll see. My thought with DIY'ing the link parties vs. having a VA is that it's easier for me to add my own links and visit others when *I* am the one doing the whole thing. Visiting others gives me more to pin for Tailwind (more on that below).
Plans for the Future:
Working on adding long pins for my posts. I went back and added them to some of my biggest posts and I'll see if they perform well. If so, I'll continue to add them. These pins are 700×2000. I seem to have heard mixed messages about whether these are good or bad… I've heard they take up so much real estate on Pinterest that Pinterest gives them a lower priority to show. So we'll see. So far, my normal pins are performing better.
In January, I'm participating in the Back to Basics Bundle. My book will be available as part of this bundle of natural living eBooks and as an affiliate, I will earn money from any sales I make. Mostly, I'm excited to have more eyes on my book!
In January, I have a daily organizing series. I've already written more than half of the posts, including video and photography. I hope everyone will enjoy it and that it will bring in some much needed traffic.
I joined a small group of similar bloggers for support. We'll have tasks to complete each week. Should be interesting.
I finally purchased Microsoft Word (been stubbornly trying to write eBooks in Google Docs- FAIL!). Looking to write another eBook on a broader topic than my last book.
Pinterest… Tailwind. Ugh. I'm switching from Board Booster to Tailwind, slowly but surely. I have read to pin 20% my stuff/80% other peoples'. The pro's say 80+ pins a day which is SO MUCH. I have been complaining to my husband about it. I like how Board Booster is setup so I can schedule pins on mobile. I can't do that as easily on TW yet, but hopefully they'll have an Android app soon. Tailwind is more affordable and it also is approved by Pinterest. I've been making the transition for the past couple of months and I haven't seen a difference in traffic… but it hasn't dropped either.
Hoping to invest in a new camera that's a bit more video-friendly. I want to see if I can continue to make a steady income once we hit January and February.
Love it? Pin it!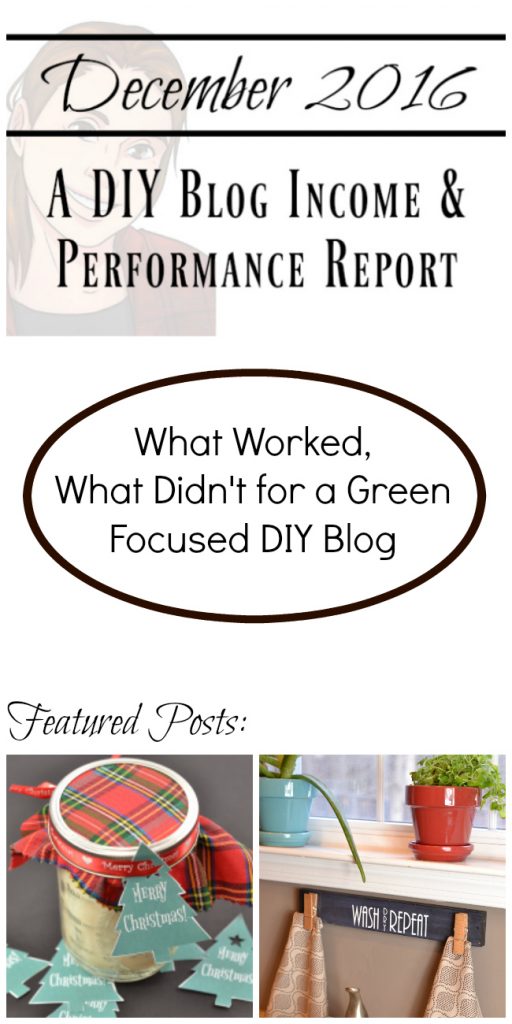 Thanks for taking the time to read this post! I really appreciate the time you've taken. Please share, like, and pin my post if you enjoyed it. Follow me on social media and subscribe to my email list to keep up to date on all of my latest projects!