This is more of an upcycle project. I was looking at buying a special cover to reflect the light from Baby G's car seat so it wouldn't get so hot this summer. This is the general idea:
They're not super expensive, but it occurred to me that I have a windshield that looks like it'll do something strikingly similar to that cover. It's one of these accordion ones: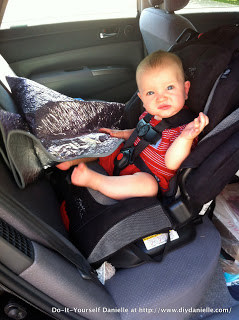 Anyhow, I don't use my accordion windshield shade. I'm too lazy and they're a PITA to unfold and try to fit in the windshield every time you get out of the car. I HATE it. It flops down, ugh. I decided to try to just drape it over Baby G's car seat when we get out of the car and it seems to work pretty well at reflecting the sun and keeping the car seat from getting super crazy hot. Sweet!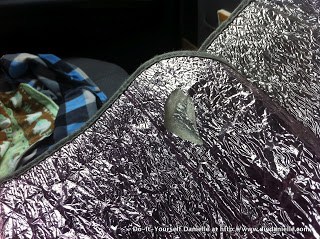 Oops, he took a bite…
Then while I was visiting my mom in Texas, we had a tire blow out and Baby G was sleeping in his car seat when it happened. We had to open the windows for air while Daddy B and my brother changed the tire. I didn't want Baby G to get a sunburn while he was snoozing with the window open so I pulled up my mom's accordion shade (which she doesn't apparently use either, based on the location in the car that it was stored) and used it to block the sun on the side window. Baby G woke up about 15 minutes into the tire change and was completely fascinated by this window shade. It's got great texture and makes such fun noises to crinkle. It also has a tag (woohoo!). It ended up being our "go to" car toy for the rest of the trip. Just keep an eye on baby with this. Baby G chewed it and got a little piece off. Pretty sure these aren't edible.
My goal was to take my cheap accordion windshield shade and upcycle it as a car seat sun shade/toy. I had these elaborate plans, but all I ended up needing to do was add an elastic to one end of it to hold it on the other side.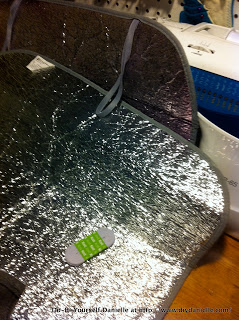 Materials
Materials:
-Accordion sun shade
-Elastic
Directions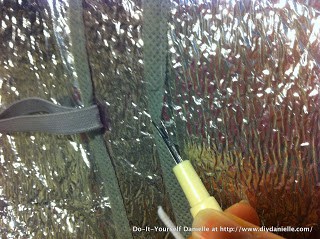 Step 1: Seam rip the stitching just enough to fit the elastic.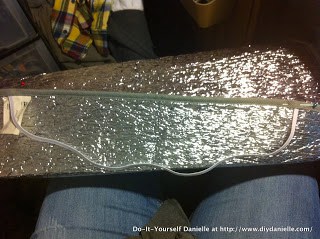 Step 2: Slip the elastic in, pin (optional).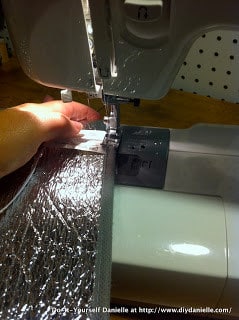 Step 3: Stitch over the elastic. I made sure to stitch over the elastic a couple times so it won't be able to escape.
Done. Nice and easy. I think it will do the trick. When not in use, I can just unhook one side and hook it to the other seat. That way it'll be easier to put on each time we get in and out of the car… because with a child, your hands are already full enough without needing some complicated process to get a car seat cover on. I haven't tried taking the temperature to see how much it helps (not exactly sure how to best accomplish that), but I noticed that laying it over my mom's car seat while we were in Texas seemed to keep the car seat from getting too hot. It was about 90*F when we were visiting and we frequently parked in the sun.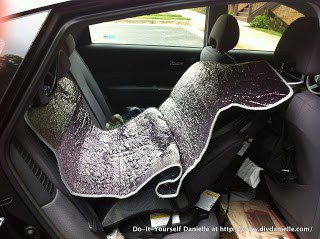 Much neater looking than it was before, just hanging out over it.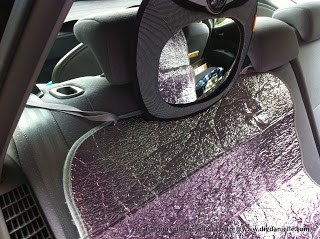 These are the two elastics that the shade already had on it.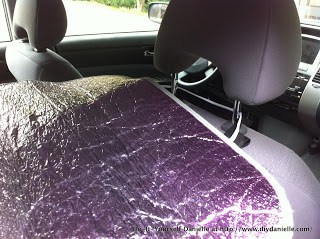 This is the elastic that I added.
For added cooling, you can make a rice "heating" pad, but instead of heating it up you can just throw it in the freezer. When you're ready to go out, toss the cold pad into the car seat to help cool the seat down before you put your baby in.