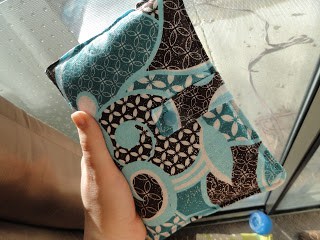 Blog Transfer #8: Kindle Cover
Originally Posted January 24, 2012

I love my Kindle. I thought I'd hate it. I love books and reading so I ended up with tons of books that usually ended up being donated.
I like the smell of books and turning the page. I like turning the page over when I want to mark my spot.
But MAN do I love my Kindle. I think the space situation at my condo was getting out of hand so it's nice to have a thousand books at my fingertips, all within this small electronic device.
No more donating books (which was sad), and I can always reread them now. I also like being able to look at what I've read before… it's going to save me tons of money.
I have a tendency to purchase books I've already read, then get about 15 pages in and realize that the reason the book sounded familiar is because it was.
When Borders went out of business, I bought a couple of $1 covers to use and my Kindle fits in them, but not perfectly (the covers were made for whatever ebook Borders produced) so I have to pull the Kindle out to use some of the buttons. I bought this cute fabric and decided to try to make a Kindle cover out of it.
I found a few different tutorials on making them, and then just decided to do my own thing, using what I'd learned or seen done in all the tutorials. Here's a couple good tutorials that you can use: Skip to My Lou Cover, a tutorial via message board on Baby Center, and a pattern you can buy on Etsy.
This cover is a perfect example of how I sew by trial and error- and how handy I've gotten with a seam ripper. It also appears to demonstrate my pure dumb luck at sewing… I have no idea how this came out as well as it did, without taking into consideration divine intervention. Read the whole tutorial before you attempt to do anything similar to what I did, unless you also want to repeat the seam ripping steps… it's just not as attractive.
Here's how I made mine…. I wanted an inside pocket, and little fabric pieces to hold the Kindle in (instead of elastic like a lot of people use).
Danielle's Kindle Cover
Materials:
-Sewing machine, thread, fabric, scissors, etc. (the obvious)
–Interfacing, cardboard, or whatever you want to use for the inside. I was cheap and didn't want to run to the craft store, and I've had the bumpers from Baby G's crib set sitting around for upcycling purposes so I used the inside of that for my cover. It ended up being very "fluffy" but it works for me. Daddy B thinks it's too fluffy.
–Snaps, a button, or hook&loop (the kind you can iron on would probably work best)
Step 1: Figure out how big you want your cover to be. I took my current cover and traced around it onto the wrong side of my fabric… you can use a fabric pen (smart) or use a thin tip permanent Sharpie marker like I do. With my option, you really need to draw lightly with the marker, cut exactly on the line and add some extra to your seam allowance because the black marker isn't cute if it shows on your finished product. I just find that it's the easiest, fastest way to mark my fabric and actually be able to see it.
Step 2: I cut out two pieces the same size of my nice fabric, as well as a same sized piece of batting (I think that's the word for it) for the inside. You can use different fabric for the inside and outside, but I wanted mine all the same.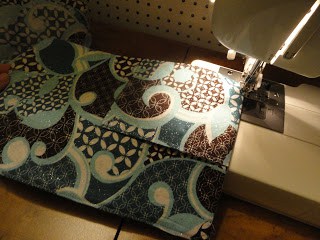 Step 3: I wanted to add a pocket to the inside of the cover so I figured out how large I needed it to be and cut out two rectangles of cloth that size. I pinned them right sides together, sewed around them except for one side, flipped it right sides out, tucked in the and topstitched. Then I placed it on the inside fabric (left side) and sewed it on.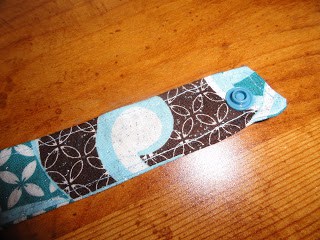 Step 4: I cut out a thin piece of fabric to use for the strap, stitched three sides of it right sides together, turned and topstitched. I left one end unfinished. I put a snap on the end with my snap pliers, but hook & loop would be a better option. I got too fancy, then realized that a snap in that location wasn't a good idea (it requires pressing down on the screen to snap it in place).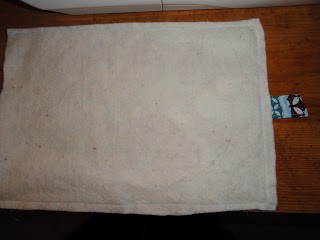 This is how they should look when they're stitched right sides together.
Step 5: I placed my inner and outer fabrics right sides together with the strap sandwiched between them. Flip it quick to make sure it's facing the correct direction. The unfinished end of the strap can be poking through the side. This is where I also checked to see where I should place the other snap, and put that on. Next, I put my piece of batting on top of the other fabric and stitched three of the sides. The top of the cover was the easiest part to leave unfinished so that it could be turned right side out.
Check to make sure it's all in the correct direction. If you're adding hook&loop and it's stick on, then it doesn't matter as much because you'll be able to wait until the very end to do it.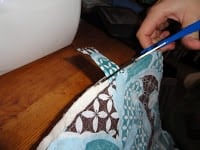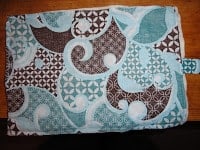 Afterwards, I just clipped off the extra left on the strap and trimmed the sides of the entire cover before turning it.

Step 6: Turn cover right side out. Iron flat.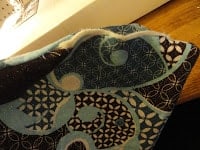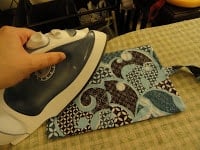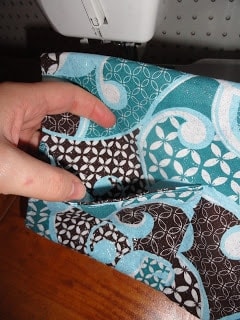 This is the inside pocket once you turn the kindle cover right side out.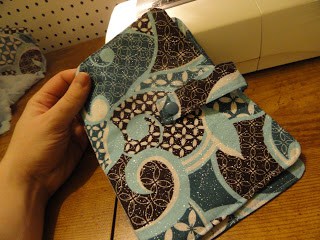 Step 7: Top Stitch, closing up the area where you turned the cover right side out. I also top stitched right down the middle, where I fold the cover to close it.
So this is about where I looked at my cover and said, "Oh crap… it's not thick enough to provide real padding if I drop it." It looked nice, don't get me wrong. But it probably wasn't going to cut it for protecting against much (except maybe the screen getting scratched or rain, etc).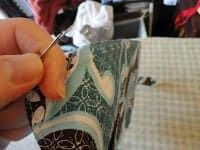 Here's my favorite tool ever… and I ripped the seams on the tops of each side.
This is how I fixed it, but if you're smart then you'll avoid the seam ripping and just make sure it's thick enough for your liking from the start.
I cut up a couple pieces from the padding of my crib bumper. Stuffed them inside each side. Top stitched closed.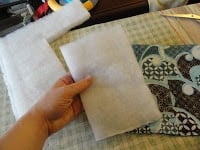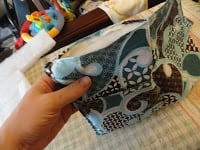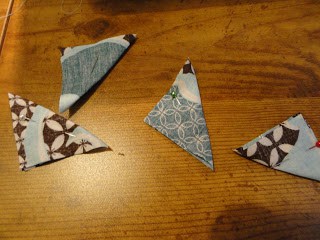 Step 8: I wanted cute little triangles to hold my kindle in place. I really liked this look better, even though the elastics may be sturdier. I cut out four squares from my fabric, folded them into triangles with their right sides together. I stitched one side closed, flipped them right side out, and then tucked the last side in and top stitched.
I pinned the triangles how I wanted them inside the cover and then topstitched again around the right side of the cover so that the triangles were then sewn on. I decided the cover was pretty fluffy so to make it look nicer, I stitched two straight lines down the middle. I don't know that this had any particular use, but I found it aesthetically pleasing.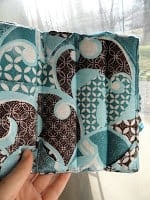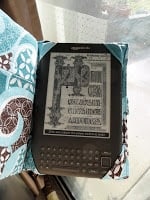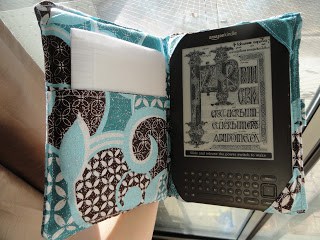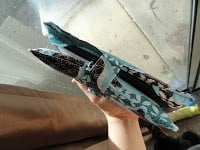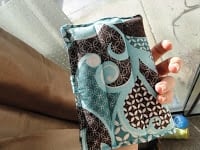 Finished Kindle Cover!
Not perfect, but I like it.

I hope that was moderately easy to understand. I don't have all the cool lingo down yet. If you decide to try it, I'd love to see what you make… just leave a comment with a link to a picture of your Kindle cover.