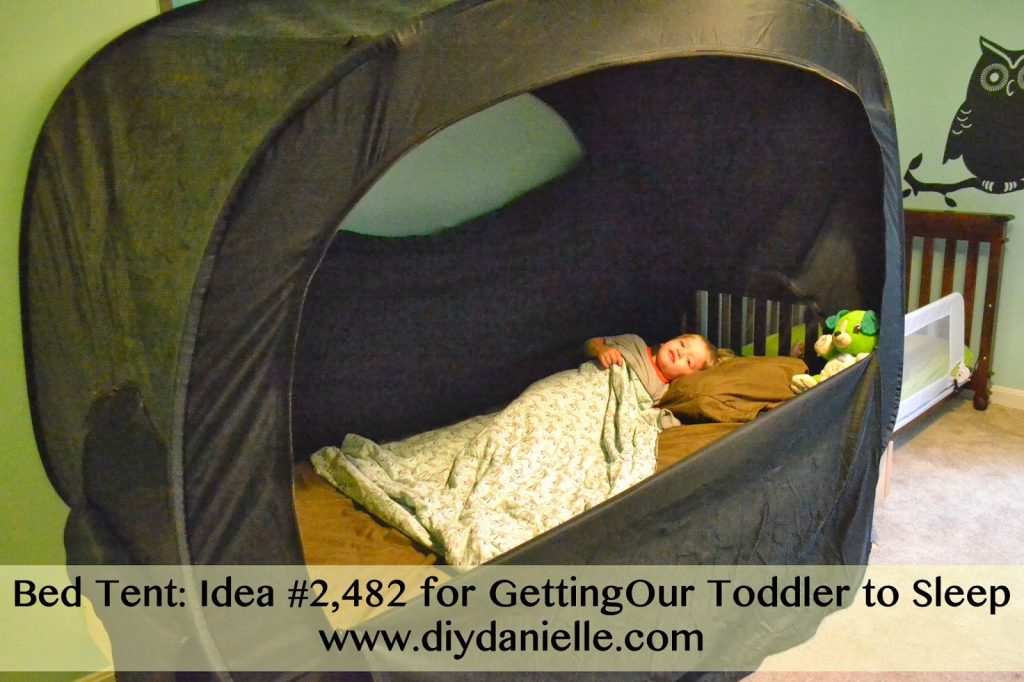 Gosh if you follow my blog regularly or know me in person, I apologize for yet another sleep post.
I am about to beat the dead horse again.
If you don't know and need background, our 30 month old has had sleep issues since his very first night on earth. We have been doing a million and one things for a while and the problem seems to be a combination of possible reflux (the meds seem to help) and sensory regulation problems.
I was feeling a bit desperate one late night and saw a sale on these great bed tents and decided to give it a try to see if it would help with his sleep.
We bought this tent for several reasons:
To block out any light that could be waking him up
To give him the feeling that he's contained
To hopefully help him calm quicker due to the feeling of being contained.
We'd been talking to the Occupational Therapist who thought he might respond to some type of physical boundary around his bed. He seems to respond well to the tent we use for the calm down corner so we hoped this would work equally well.
Here is a link to the tent on Amazon (if you purchase through this link, it helps support this blog):
Setup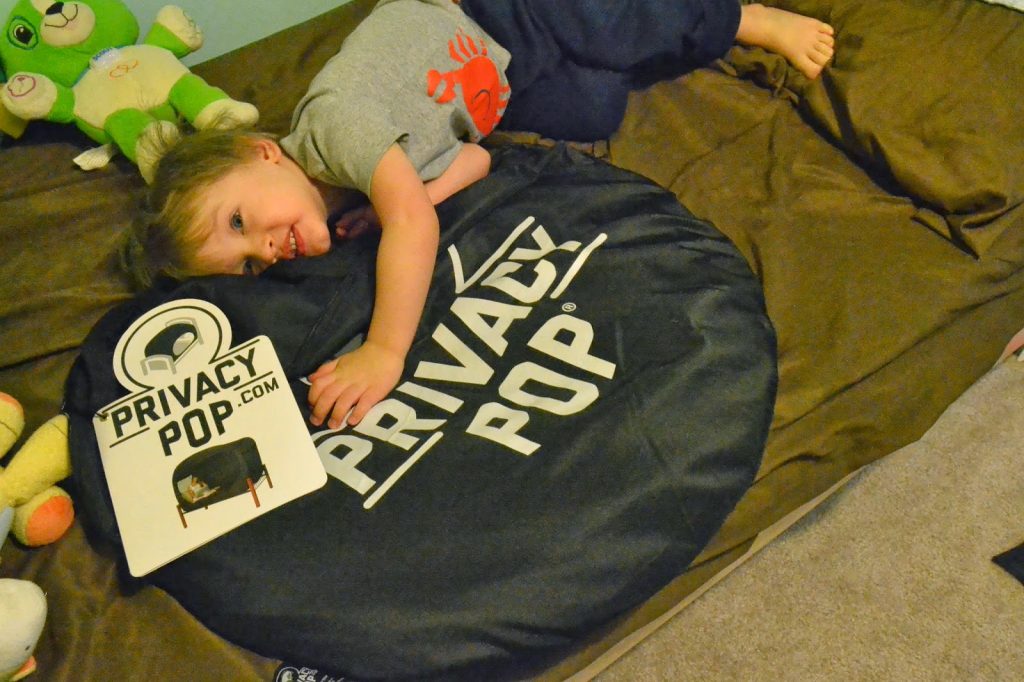 This is it in the package it came in! Look how tiny it looks!
Setup was simple. It pops open, you put two rods into the zippered pockets on the top and two more on the bottom. I liked how they're zippered closed. The rods didn't seem very strong so hopefully they don't break.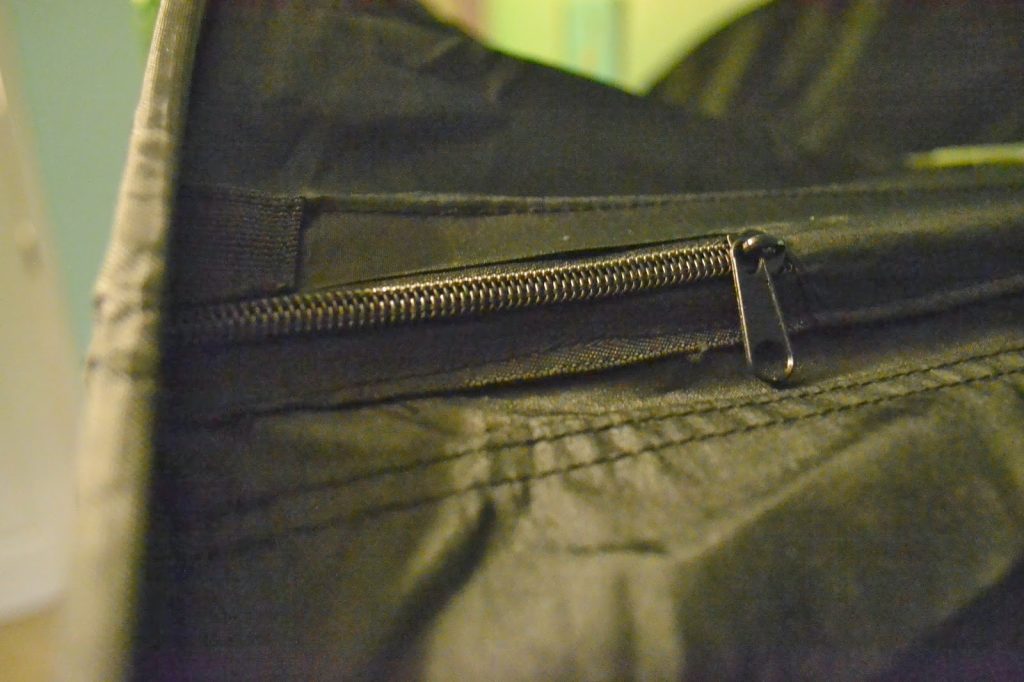 These are the zippers that are on the top and bottom that
you put the rods through, then zip up.
You remove the mattress from the bed, pop the tent onto bed frame, then insert the mattress inside it. Done. Very fast.
There are four openings- two on long sides, two on short sides. The short sides each have two options: see through mesh or black fabric. If you want you can leave black fabric open so the mesh is only piece that is zipped up/closed… It allows you to see out and get extra air. I wish there was an opening on the top, but there is not.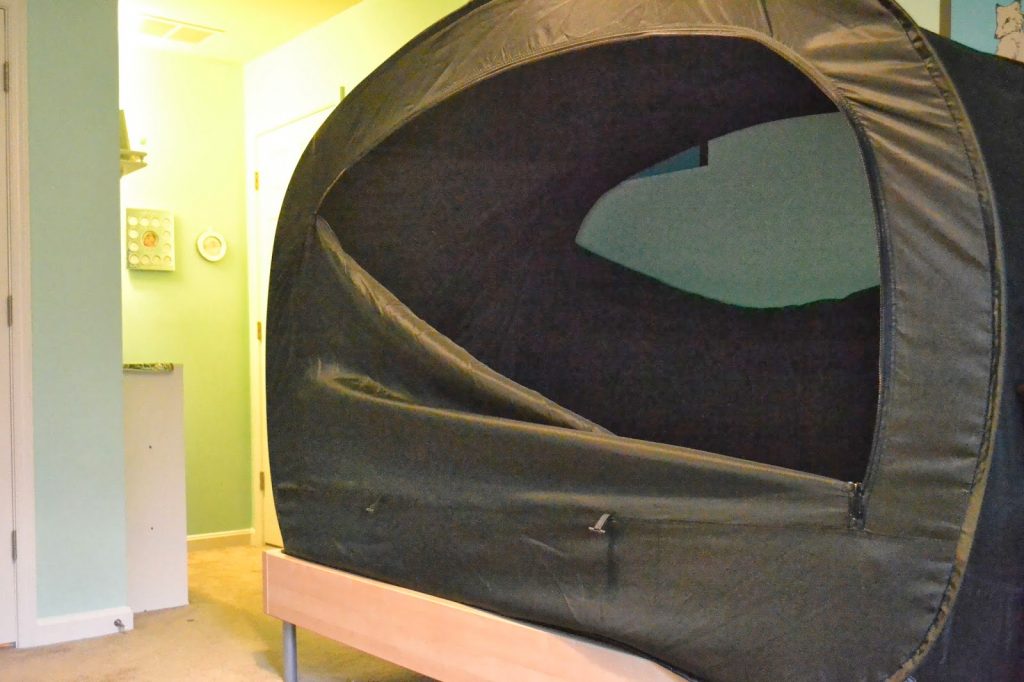 Here it is setup…. look how tall it is!
I decided to keep the big long window next to the wall open and folded down (you can secure the fabric in place with the loops on the tent) so he'd get plenty of air. The other big long window is closed, as is the small window that faces the actual house window (want to block sunlight seeing it's getting lighter out earlier). Opposite small window is open and faces door so he/we can crawl in and out easily. I feel like Pooh whenever I crawl out, afraid G will have to push me out by my butt one day- haha. Perfect size for a kid to crawl out and I fit, but it's awkward at my size, especially when I have K in my arms.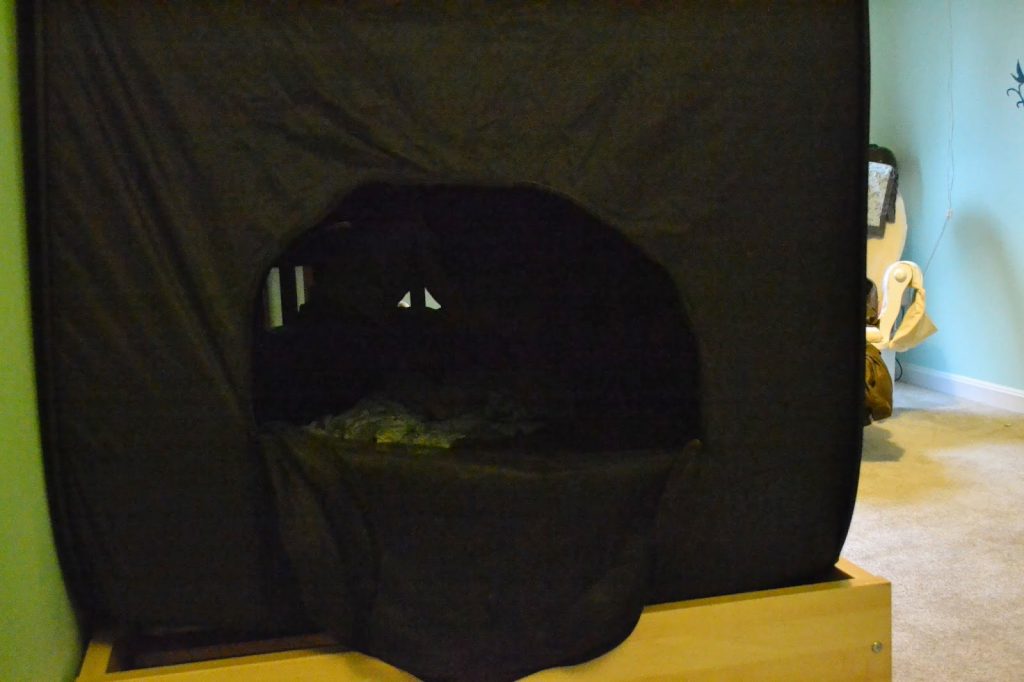 This is one of the two end pockets… sorry it's so hard to see.
The bed tent blocked light in the room which is good for
his sleep, not so awesome for taking good pictures. There
is a mesh part and a black part that matches the rest. This is
what I crawl out of after he falls asleep, haha.
Here's some pictures of how you can fold down the sides and button them down.
Concerns
My concerns prior to buying:
Is there enough air in there?
Will it get too hot?
Could it fall on top of him?
Will he feel trapped?
There seems to be enough air the way that we have it setup, but I don't see where it'd be an issue even with all the tent zipped up. It is so high that it makes the bed area seem spacious rather than claustrophobic. It also didn't seem to get very hot, possibly for that same reason. I lay in there with G while he's going to sleep and I don't ever get hot- even though we keep our heat on fairly high so the potential was there.
I am a bit concerned it could fall, but it seems pretty sturdy and it's held up well so far. He doesn't seem to feel trapped- I gave him plenty of opportunity to play with the zippers during non sleepy time so he'd feel comfortable getting himself in and out. We also leave one small opening open for him when he sleeps.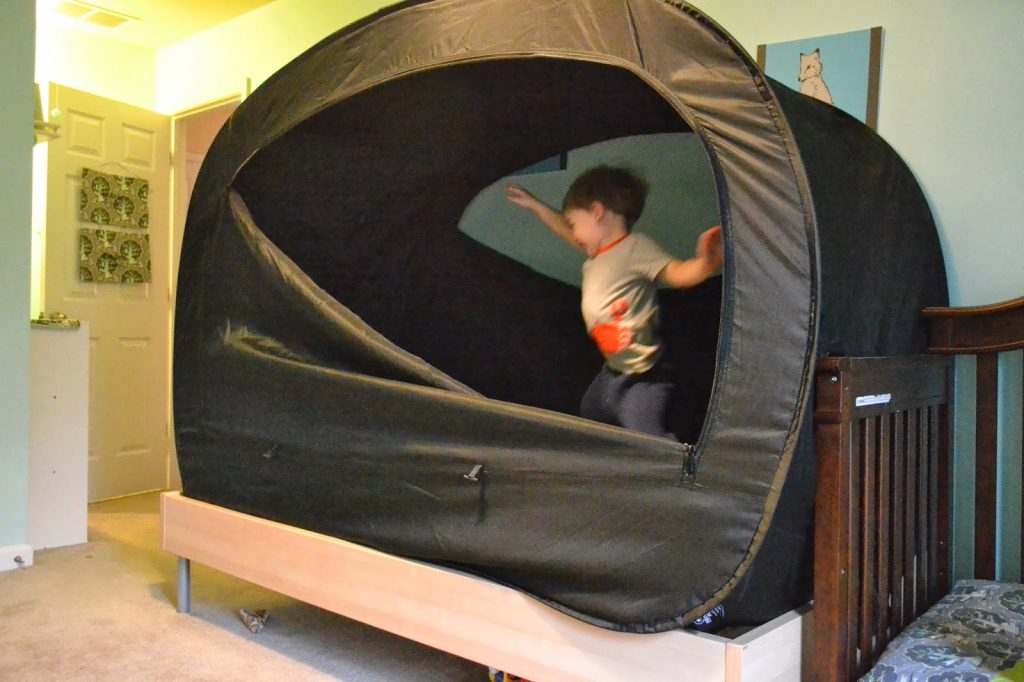 So far it's only been a few days and it's difficult to say whether this has helped his sleep in the long term, but he likes going to bed in it and I feel like he's probably spent more time sleeping in his bed and stays asleep for longer at night before his first wake up (he tends to have multiple night wakings). It's very dark in there which I think is helpful. He isn't scared of it and he likes it a lot.
Update (10-15-14): We are still using this for our son and it does a great job blocking the light from windows now that we've moved him to another bedroom. I don't love how it seems to fill the space of the room and make it feel smaller, but he seems to do well sleeping in it.
We didn't find it was a perfect fix for his sleep issues, but we worked with a sleep and behavior specialist which has helped immensely to get him sleeping better.
I did not get compensated to write this review. However, if you purchase the product via the Amazon link (or use the link and buy something else), I do receive a small percentage from Amazon which helps support the blog. Thank you!