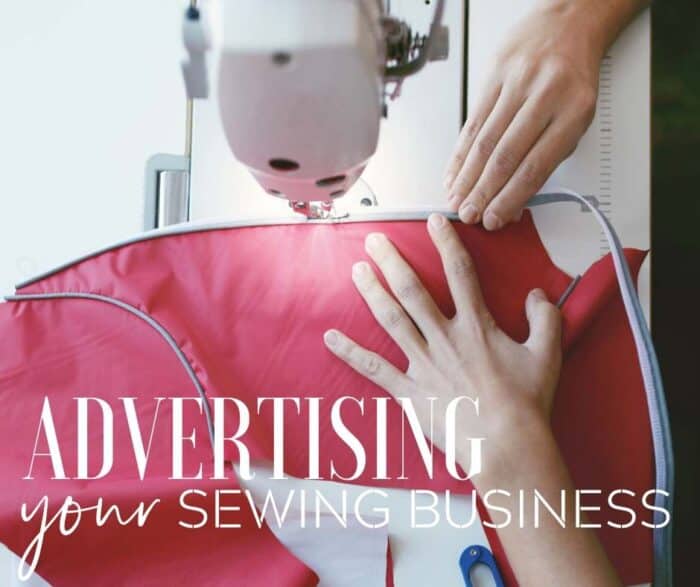 Ideas for affordably advertising your sewing business, fabric co-op, Etsy store, or blog.
This post contains affiliate links which may earn me commissions should you click through them and take certain actions. As an affiliate for Amazon and other sites, I earn from qualifying purchases. Please DIY carefully. View my full legal disclosures here.

Please read the whole post so you don't miss any important information!
Being able to affordably advertise my sewing blog has been a struggle- free options like Pinterest and Facebook can work, but the platform is always changing and one algorithm change can cause traffic to tank.
I don't mind advertising on those platforms, but figuring out the best way to compete with big advertisers with big budgets was beyond me. How could my $5 or $10 really compete with a company who spends thousands (hundreds of thousands?) in advertising each year.
So I have learned to get creative with advertising.
Here's some tips for advertising your sewing related business for cheap or free.
Host an Event
This is one method that I would love to try, but haven't yet. Consider using a room at the library, community center, Michaels, or Joanns to host your own creative event. I believe Michaels recently started paying creators to host events!
Some women host small, expensive crafting trips which sounds AWESOME. Either way, it gets your name out there and allows you to market your product, service or site.
Donate Wisely
Is there a charity that would appeal to your ideal audience? Consider donating goods or a gift certificate to your favorite cause. Many small events will list your business name in a pamphlet or bulletin in return for your donation. This is particularly good for local businesses.
Put Your Car to Work
I'm not sure how much business it will drum up, but you'll get name recognition and hopefully a few loyal customers who love to shop local. Make a big decal for the back or side of your car with your business name on it.
Big words with key information only… people have to be able to read it easily while they're at a stop light.
Just make sure you drive like a lady because you'll want to leave off your personal contact information if you're a road rager!
I also love these business card holders that attach to the back of your car.
You can add a vinyl sticker to your car with a Cricut machine, or purchase these blank large blank magnets to put on your car- you just would add the Cricut decals to the magnets instead of directly on your vehicle.
Use Social Media Wisely
Exclusive Facebook groups for pattern companies and fabric co-ops tend to perform well. Get people making your patterns or using your fabric. Have them share photos of the finished products. This is a social platform so you may need to do a lot of upfront work to get the group off the ground! You'll also need to carefully monitor the group for spam.
Pinterest is my favorite option because I enjoy reaching "my people" without being forced into "I like baseball" "I like baseball too" type conversations. It's all about sharing fun ideas- and ideas? I have those.
One of the best investments you'll make for your business is a Tailwind account, assuming you plan to use Pinterest to advertise. Get a free month of Tailwind by using my referral link.
Advertise on Sew Organized
One of the reasons that we developed our app was because I wanted a place for small businesses to advertise- without big name competitors out ranking us because they could afford a better ad budget.
So we created the main part of the app, but also added the INSPIRATIONS section. It's the first thing that opens up when someone opens the app, the order of posts displayed is random, and we accept advertisers in that section.
And it's all a flat fee.
Right now we're charging $5/month for a spot in the inspirations section of the Sew Organized app. Get two months FREE when you purchase 12 months.
Advertise your blog post, a pattern you sell, or the handmade items you make. Anything SEWING RELEVANT.
If you're interested, email me at [email protected] or visit my shop to purchase the ad spot.
Do you know a person struggling to market their business or blog? Share these quick and easy ideas with them!
Please share and pin this post! If you make this project, share it in our Stuff Mama Makes Facebook Group in order to enter to win our monthly giveaway. You can also tag me on Instagram @doityourselfdanielle; I love seeing everything you make!